Bruce Murray
From sltarchive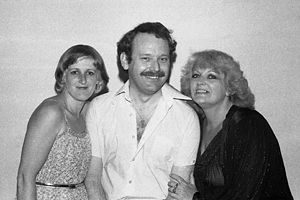 SLTC Member 1975 - 1984
Bruce Murray joined SLTC in 1975 after coming to the UK from New Zealand on his OE (Overseas Experience).
He soon became very involved in the theatre performing, directing and designing many productions. He was on the General Council (Executive) for many years serving as Theatre Committtee Member which included two years as Chairman.
Renowned for his musical productions, he had many notable successes including The Wizard of Oz, Sing Brel (twice), You're A Good Man Charlie Brown (twice), War Note, Rodgers A Man On The Great White Way, Berlin to Broadway with Kurt Weill, Finian's Rainbow and Pippin. Plays included Tom Jones and John Yorath's epic play about the Crystal Palace, The Last Day Of November (staged twice).
He returned to New Zealand in December 1984, where he has continued his interest in musical theatre, staging many shows around the Auckland area, the most recent being Titanic, The Musical at Centrestage Orewa, NZ. In 2009 he will direct Les Miserables for Centrestage.
He is married to Julie and has two grown-up children Wendy and Brent.
Acting/Singing Roles
Productions as Pianist
Productions as Devisor and Director
Productions as Designer & Director
Productions as Director
Productions as Designer
Productions as Set Designer
Productions as Stage Manager
Set Construction on:
Wardrobe on:
Interests
External Links