Zoo Zoo Widdershins Zoo (1983)
From sltarchive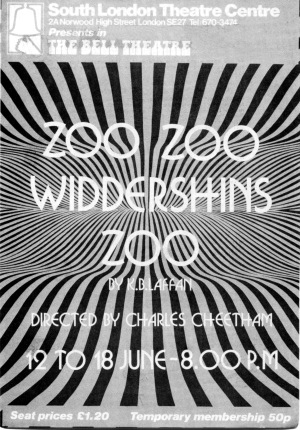 by K.B.Laffan
Directed by Charles Cheetham
Performances:Sun 12th – Sat 18th June 1983, Bell Theatre
Introduction , from the programme
Zoo Zoo Widdershins Zoo is an immensely funny and lively play about a group of young people living together in a flat in the Midlands in the sixties. They are all out of work, living off national assistance, occasional shop-lifting and telephone boxes!
The play was first-prize winner at the National Student Drama Festival in 1969 where it was presented by students from Leicester University. A proessional production subsequently opened at the Nottingham Playhouse and transferred to the Royal Lyceum Theatre as part of the Edinburgh Festival prior to opening in the West End.
Cast
Crew
Reviews
Some review quotes go here
Gallery
Reminiscences and Anecdotes
The June issue of SCENE had an article from Steve Hannington on the cast's trip to Dudley Zoo "for publicity shots and to check Brummie accents" they were told (in the pub where bitter was 54p a pint) by the locals, "Wim not Broomies: wim Black Country lads. This is a posh poob. Them talk different oover there"
This production was also performed on May 31st & June 2nd at the English Amateur Theatre Week in the Playhouse at The Questors Theatre Ealing.
Kevin Barry Laffan (born 1922) also created the lunchtime TV Soap "Emmerdale Farm"; now the evening programme "Emmerdale".
See Also
Have there been other SLTC/SLT productions of this play? Link to them here.
Or add anything that is related within this site. The author's page for instance or other plays with a similar theme.
References
<references/>
External Links