Oh What a Lovely War (2012)
From sltarchive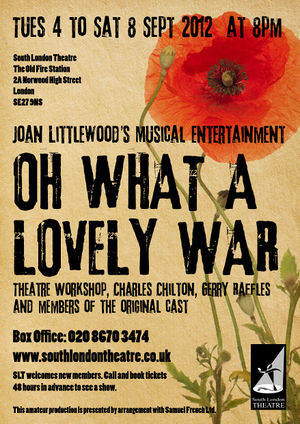 by Theatre Workshop, Charles Chilton and the original cast - Based on the radio play by Charles Chilton
Performances: 8pm, Tue 4th – Sat 8th of September 2012, Bell Theatre
Introduction
In 1963 the groundbreaking Theatre Workshop, led by Joan Littlewood, presented the history of the First World War through the medium of an end of the pier show with sketches, dances and well-known songs of the period. In the background a slideshow and tickertape revealed the devastating cost of the war in sharp counterpoint to the light-hearted antics on stage. The show has become a classic, endlessly performed and yet always with something new to reveal to its audience.
The show was last performed at SLT in 1979 using Littlewood's original concept of a pierrot show. Our theatre troupe is somewhat more eclectic but you'll still enjoy a multiplicity of characters, extraordinary accents and even more extraordinary moustaches created by a small but talented ensemble cast who play a multitude of roles each from newsboy to the Kaiser and Sir Douglas Haig.
There's music, dancing, a few jokes, some battles and a show that enchants its audience with song at the same time as it reduces it to tears.

From the programme notes.
This production has been a testament to the joys of playing ensemble and the range and talent of the actors involved. I reckon that a troupe of just ten good men and women are playing in the region of 140 roles between them - in some cases 20 each. It has been a huge pleasure and a privilege to work with all of them. We hope you enjoy the show.

In memory of Zara (Thomas) Gough (1965-2012) who was so looking forward to seeing the show.
Cast
Ensemble
Band
Crew
The cast and crew would like to thank the following people and organisations who have helped with this show: The Park for rehearsal space; bar and box office staff; Theatre Committee and rep. Dave Hollander; cast and crews of Henry and Alice, Jeffrey and the New Writing Double Bill and Stephen at Sabre Sales in Southsea. Chris, Dave, Gerard , Catherine for all their very hard work on the music.
Reviews
From Sardines magazine

Oh, What a Lovely War! started life as a radio play, before Joan Littlewood worked her magic on it in 1963. Broadway followed the following year after a successful West End run and the production's popularity has barely waned since. As I had heard of the piece but was not quite sure what to expect, I was a little wary to keep finding mention of Pierrot puppets. I cannot say I was not mildly relieved to find out SLT had gone down a more traditional route and was using an ensemble group instead. And they certainly lived up to their name.
I feel it would be churlish to mention any actors or musicians separately as they were all equally entertaining to watch. Having to embody a whole host of characters can daunt lesser mortals but not this lot. They jumped in and out of costumes with ease and without disrupting the onstage action. The school-like coat pegs that were weighed down with a whole host of costumes, inveigled the audience with what might come next.
One thing that was adhered to within this production was the use of projections on the back wall. Normally depicting harsh scenes from war times, there was also prominent dates and locations. For someone brought up on a diet of Hitler and Mussolini, this was invaluable to move the musical along. For some of the audience, there must have been a slight sense of déjà vu but you could tell by peoples' reactions that everyone enjoyed themselves and could not help but be moved by the consequences of Haig's actions.
Often with musicals, societies that more often than not present drama or comedy, sometimes need to rely on brought in musicians and choreographers so that the acting, singing and dancing are all on a level playing field. Knowing a fair few people in amateur circles, it was heartening to see that these talented people were all 'home-grown' and the extra demands placed on the performers were all dealt with in-house.
My final compliment has to be for all the off-stage members. There are always a whole host of people ready to welcome you to SLT; as you enter, at the Box Office and down in the bar. We were privileged to attend on one of their well-received Gala nights, where not only does one get to meet the 'faces' of SLT, there is always a lavish buffet too. The effort that goes into an evening like this is commendable (as well as highly enjoyable!) as many people are quick to remind us, amateur means 'lover of' and these people definitely put lots of love into their productions. Another triumph for SLT.

The Mayor of Lambeth
Oh what a lovely war" – Oh what a lovely experience!
Recreating the intimacy of Joan Littlewood's period piece directed with a carefully staged understanding of the emotional genre of the time, played well for a most appreciative audience at the South London Theatre on Thursday night.
An extremely able and hard working cast of ten who made exceptionally good use of the dialogue, entertained us with comedy songs and tear jerker lyrics set within dance routines including a delightful tap sequence giving Hitchy Koo just the right treatment for a saucy spotlight during the First World War.
My only regret is that the size of the auditorium will only allow a relatively small audience to enjoy these performances staged, directed and performed by a cast that reminded me of some very good repertory work in the late sixties and early seventies.
Good luck with the lottery funding because we all know it would be used well and please thank the musicians and their strict time conductor for their highly professional contribution for what was a lovely theatrical experience on both sides of the house tabs.

Emma Kerby-Evans
I wasn't caught singing (I don't think:-)) but just to say a huge thank you to all concerned for a great evening. Brought back loads of happy memories and congratulations to all involved. Enjoy the rest of the run. MY only complaint was that the BLT camel didn't make an appearance...can we have a camel in Jeffrey?

Fiona Dafferne
I thoroughly enjoyed it, too (and I don't often say that about musicals/ plays with music). Well done everyone and have a great rest of run. If you haven't got a ticket yet, book now!

Mark Davies
Good show, very enjoyable and the cast really did look like they were have a blast! Also many thanks to all for a well organised Gala night. Keep the British end up!

Jeanette Hoile
I really did enjoy this and thought that the cast worked very well together. The songs came fast and furious but were nicely undercut by the scenes being played out and the gut wrenching statistics provided. My personal favourite has to be Helen's rendering, (and that word is so appropriate), of a song concerning the days of the week. It was superbly delivered and brilliantly funny. Do go along tonight or tomorrow for a very entertaining evening!

Sue Jacobsen
WOW! That really was not shit! It was wonderful, funny, poignant, visually delightful, beautifully staged. Hearty congrats to all cast, crew and the marvellous Ms Thomas La Directeur. Another stunning SLT masterpiece. x
Gallery
The below is a captioned selection. All are copyright Phil Gammon.
MC (Peter Stevens): That's a lovely dog you have there Madam. A dachshund you say? From Frankfurt?

Catriona Laing: 'Damen und Herren: the German ultimatum to Russia has expired.'

Chaz Doyle: 'Nothing more terrible could be imagined. We advanced much too fast.'

Sir Douglas Haig (Matthew Lyne): 'The loss of another 300,000 men could lead to outstanding results.'

Dean Wicks: Then there is a corner of some foreign land that is forever England.
Reminiscences and Anecdotes
Members are encouraged to write about their experiences of working on or seeing this production. Please leave your name. Anonymous entries may be deleted.
Favourite lines: 'Canter in the row tomorrow before breakfast, Doris.' 'Don't shoot, it's us. There's human beings over here.' 'We're going down the line.'
Notes: The bizarre dance performed during 'I wore a tunic' is called 'The Grizzly Bear' and was all the rage during the wartime period as were a number of other animal dances.
Thanks once again to Sabre Sales in Southsea who have allowed the director to indulge her fetish for uniforms and have provided among other things jackets for Sir John French and Sir Douglas Haig, the Kaiser's helmet, a Glengarry, a boy scout hat and a tar's hat of the period. The mistakes, anomalies and inaccuracies are ours, not theirs.
The puppy has also appeared in Schweyk In The Second World War and in The Thwarting Of Baron Bolligrew.
See Also
References
<references/>
External Links