The Thwarting of Baron Bolligrew (2010)
From sltarchive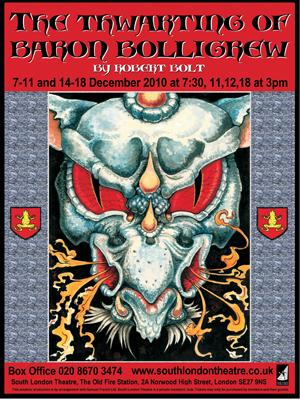 by Robert Bolt
Directed by James Hough
Performances: 7 - 11 and 14 - 18, with matinees on 11, 12 and 18 December 2010, Bell Theatre
Introduction
This is not a pantomime, rather a play for children. Having successfully exterminated the weyr of dragons infesting the duchy, the Duke and his knights now wish to relax. However, our hero, Sir Oblong Fitz Oblong is not having any of this and demands that they should travel to unpleasant parts of the world to help the poor and needy. In order to avoid this, the Duke and his knights manipulate Oblong into taking on the mantle of a knight errant and despatch him to the dreaded Bolligrew Isles, where power is shared by the villainous Baron Bolligrew and a dreaded black dragon. In his quest to relieve the islands of Bolligrew's tyranny and the dragon, Oblong encounters a host of characters including two talking magpies; peasants; Bolligrew's evil henchman, Squire Blackheart; a Regius Professor of Wickedness, and many, many more. Mayhem ensues, including sword fighting and hellish sorcery, before the inevitable happy ending...well, for most of them, that is!
Cast
The Goodies
The Children Of Night Everlasting! The Baddies
The Peasants
Poor Cast: Katie Balme, Emilia Capitelli, Nina Glover Southworth, Betty Mayo, Seamus Mayo, Skye Williams
Needy Cast: Martine Harrison, Kitty Judge, Harry Lowe, Blake McKenzie, Ella Ogan, Benjamin Thomas
Crew
Reviews
Some review quotes go here
Gallery
Reminiscences and Anecdotes
Members are encouraged to write about their experiences of working on or seeing this production. Please leave your name. Anonymous entries may be deleted.
See Also
The Thwarting of Baron Bolligrew (1973)
References
<references/>
External Links