Jeffrey (2012)
From sltarchive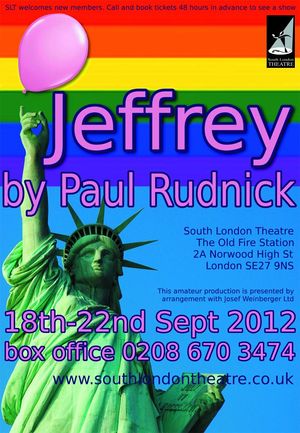 by Paul Rudnick
Performances: Tue 18th – Sat 22th September 2012, Prompt Corner
Introduction
Jeffrey is in his early thirties, obsessed with sex but only as a means of finding true love. However he is paranoid (sic) by the dangers and consequences of physical contact so he decides to be celibate and find an alternative to sex. At this moment he meets Steve, handsome, fit, sexy 'Mr perfect'. Or is he? Jeffrey's paranoia and hang-ups make him run for the hills and, even worse, contemplate leaving The Big Apple and return(ing) to Wisconsin. This is a play about Jeffrey's journey to confront his demons and face up to being a gay man living in the world of America in the 1990s. We all share the same destination, a fate we have no control over. The paths we take vary and make us the individuals we are - unique and remarkable. Tonight we invite you to join Jeffrey and all our other colourful characters on their journey through the rainbow. BWH.
Cast
Crew
Thanks to:
The Park for rehearsal space, Gary Mack, Jonathan Douglas, Melissa Williams, bar staff, Box Office and FOH staff, Theatre Committee, rep Carole Coyne, cast and crews of Oh What a Lovely War and Eternity Awaits, and extra special thanks to Siobhan, Caroline and John from Henry & Alice. Also thanks to the understanding of partners and families of all involved.
Reviews
Some review quotes go here
Gallery
Reminiscences and Anecdotes
Members are encouraged to write about their experiences of working on or seeing this production. Please leave your name. Anonymous entries may be deleted.
See Also
Have there been other SLT productions of this play? Link to them here.
Or add anything that is related within this site. The author's page for instance or other plays with a similar theme.
References
<references/>
External Links