Tartuffe (1988)
From sltarchive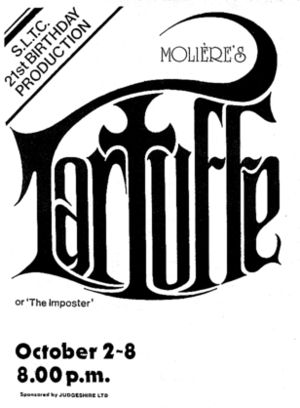 or 'The Imposter'
by Moliere Translation by Christopher Hampton
Directed by Brenda Meldrum
Performances: Sun 2nd – Sat 8th October 1988, Bell Theatre
SLTC 21st Birthday Production.
Introduction
In 1662 Moliere made an injudicious marriage with the youngest sister of Madeleine, Armande Bejart, a spoilt child, only 20 years old, capricious, flirtatious, and appartently quite lacking in affection. The affair was complicated by the belief of most people, even Moliere's friends, that Armande was the daughter and not the sister, of Moliere's former mistress. Montfleury, his greatest rival, always jealous of Moliere, went so far as to accuse him before the king of having married his own daughter. The king's reply to this was not only to commission "Impromptu de Versailles", which ridiculed Montfleury and his company, but also to stand godfather to Moliere's first child, born in 1664, who died in the same year. 1664 also saw the production in front of Louis XIV of the first three acts of a play which was to cause much distress - "Tartuffe". This attack on hypocrisy roused against him the religious bigots of Paris, who succeeded in getting the paly suppressed for may years. Though frequently performed in private houses, it was not seen in public until it was put on at the Palais-Royal on 5th August 1667 as "L'Imposteur". Moliere died in 1673 after a performance of "Le Malade Imaginaire" - his last play, in which he himself played the lead.
Moliere's great achievement was that by his own efforts he raised French comedy too the height attained by French tragedy. He rescued it from the domain of farce and in his hands it became a vehicle not only form social satire, but also for universally applicable exposure of human folly and pretentiousness. As a comic actor, Moliere himself played Orgon in Tartuffe.
At The Comedie Francaise, known as "La Maison de Moliere", His plays account for one seventh of the performances given between 1680 and 1920; of the ten plays most frequently performed by 1920, eight were by Moliere, and "Tartuffe" is the one play that has been given during every year of the theatre's history. Roles like Orgon and Elmire have served to demonstrate the excellence of countless actors and actresses.
From: The Oxford Companion to the Theatre, Edited by Phyllis Hartnell, OUP (1983)
The play is set in Orgon's house in Paris.
Cast
Crew
Our grateful thanks to Jack Edwards for the loan of wigs and shoes.
The South London Theatre Centre is grateful to Judgeshire Ltd for their sponsorship of this production.
Lighting equipment by arrangement with Touchstone Technology.
Reviews
Some review quotes go here
Gallery
Reminiscences and Anecdotes
Members are encouraged to write about their experiences of working on or seeing this production. Please leave your name. Anonymous entries may be deleted.
See Also
References
<references/>
External Links