Something Rotten (2012)
From sltarchive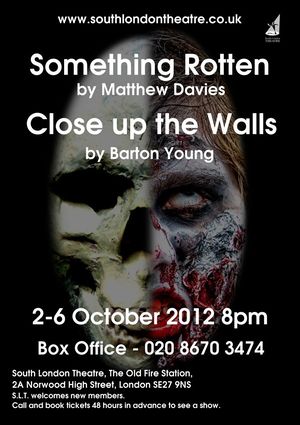 Performances: 8pm, Tues 2nd – Sat 6th October 2012, Prompt Corner
Introduction
Presented in a double bill with Close Up the Walls. New Writing Premier.
Marina has been sectioned for over two years now. In that time, she's made numerous suicide attempts and failed at every single one. Her only friends are Aaron, a paranoid schizophrenic convinced he's bearing the white man's burden (,) and Maggie, a nurse who's been good at her job for far too long. Life shows little sign of getting better until a young man arrives at the institute with nothing but the firm belief that he'a a famous Danish prince. Doctor Fordyce won't believe a word of it but a man could go mad trying to prove someone else is sane. Is Hamlet really crazy or is there some method in his madness?
Something Rotten was written by Matthew Davies while working at the Maudsley Hospital in south east London. This is his third play to be staged at SLT after Stiff (2009) and Brandy (2010).
Cast
Crew
Thanks
Emmaus, The Hope and The Park, box office, front of house and bar volunteers, the cast and crew of Jeffrey; Mark Bullock and the cast and crew of Eternity Awaits; the Patmore family, Dave Hollander and Mark Davies.
Reviews
Some review quotes go here
Gallery
Reminiscences and Anecdotes
Members are encouraged to write about their experiences of working on or seeing this production. Please leave your name. Anonymous entries may be deleted.
See Also
Have there been other SLT productions of this play? Link to them here.
Or add anything that is related within this site. The author's page for instance or other plays with a similar theme.
References
<references/>
External Links