Eternity Awaits (2012)
From sltarchive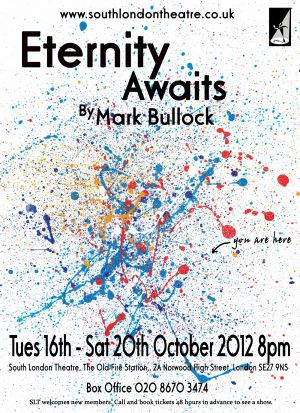 by Mark Bullock
Performances: Tues 16th – Sat 20th of October 2012, Bell Theatre
Introduction
Eternity Awaits developed from the idea of what it meant to 'live forever'. What problems would be thrown up by there actually being an afterlife, especially if we all remained ourselves in one form or another? I began researching a lot about religion (primarily Christianity) and the science debate of the existence and non existence of God. Each argument that I read was very well formulated and put together, but the one thing that always struck me was that when trying to explain the beginning of things and where we were going, it always came down to faith. The characters in the play are purposely written to create the debate within the story and I have tried to resolve it in my own philosophical way. There's a lot going on under the surface of the play with little clues and the sound plays a huge part in trying to tie up the overall story. It'll keep you guessing until the end, and then maybe a little longer than that. The play is by no means the finished article, but already there have been so many people who've helped with rewrites, readings and words of encouragement and kept me going with the will to finish over the last 18 months. Thanks to you all. Please feel free to grab me and tell me what you think or if you have any thoughts on further developing the piece. I hope you find the play engaging, humorous and heartfelt.
Mark Bullock, Writer/Director
Cast
Crew
With thanks to:
I would like to thank everyone who has made this possible: The Park for the lovely rehearsal space,Alan Buckman, The Front of House, Box Office, Matthew Lyne & all the Bar staff for helping it all run smoothly. Costume team, Gavin Parker, Jess Osorio, Bob Callender, Naomi Liddle and their respective casts for allowing me to reschedule. TC for showing faith in my original idea and allowing me to put it on in the first place!
Special Thanks for the following support:
Fiona Gallacher, Matthew Lyne, John Irvine, Anton Krause, Dave Hollander, Peter Stevens, Susan & Scot Braddick, Rob Heam, Francesca & Kevin Monk, Daniel Bird, Paul Vaughan Evans, Stephen Glover and of course the amazing faith and dedication of the cast and crew with which the project would never have become as good as the final result.
Reviews
Some review quotes go here
Gallery
Reminiscences and Anecdotes
Members are encouraged to write about their experiences of working on or seeing this production. Please leave your name. Anonymous entries may be deleted.
See Also
Have there been other SLT productions of this play? Link to them here.
Or add anything that is related within this site. The author's page for instance or other plays with a similar theme.
References
<references/>
External Links
Edit Categories below - Bell or Prompt AND THEN REMOVE THIS MESSAGE!