Stiff (2009)
From sltarchive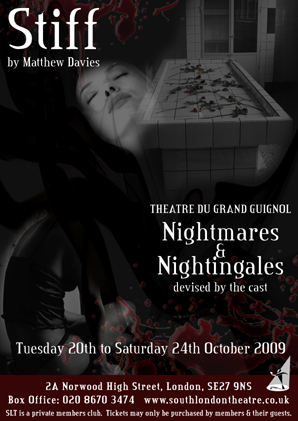 Written and directed by Matthew Davies
Performances: Tuesday 20th - Saturday 24th October 2009, Prompt Corner
Performed as first half of a double bill with Nightmares and Nightingales
Introduction
Two young morgue workers, Godsell and Daniel, working the 'graveyard' shift at a mortuary in West London must take charge of the body of a famous actress, Andrea Sterne, who has recently taken her own life. As the night draws on, they begin to realise they have a once in a lifetime opportunity to touch fame in a truly horrifying way. It should be a simple task to just guard a body until dawn but Godsell has other plans for the late Ms Sterne.
Cast
Crew
Reviews
Karen Webb
I think anyone in the audience would know I loved Stiff by the cackling... Not sure what that says about me. Excellent writing, and I really enjoyed the performances. I don't think I am being biased either.
Very controlled performance by Finbar as Daniel, as a lovely contrast to the infuriating conviviality of James' Godsell; nicely pitched on both sides. Matthew as Lonely has a very funny and warm entry as plot exposition in the first scene, and another in the last scene which I thought was a lovely mix between heightening the dramatic tension (threat of discovery) and also relieving it.
I appreciate writing that makes the audience not sure whether it is 'okay' to laugh. Naturally I did though. The script lends itself to humour, rather than taking itself too seriously and making more out of the question of 'morality' (or lack thereof). I think - despite the humourous approach to characterisation - that towards the end the characters really did put this question forward effectively without labouring it, and still managed to put my bladder to the test. I was left wondering who I think is really worse...not sure I have made up my mind on that one.
Interesting point made further up on the board about movement. I am not sure I agree though. I liked the movement being so restricted - made it seem more like a real situation to me (as far as it can..erm..). As the dilemma presents itself, and the thoughts of going through with it surface, the movement does open up - which I thought worked.
I think the play is great as a short; however a nice addition would be to have an extra scene at the beginng to show a little bit of history between Godsell and Daniel. Not to spoil it, but I think this might add to the ending. Love it though. Matthew you are a sick, sick man. I look forward to seeing your next piece of writing.
Stuart Draper
The second piece was a Damien Hurst. You would either love it or hate it. I loved it because it had an engaging story (No, I have no Idea whodunnit, and personally I don't think that is the point) a brilliant ensemble cast and excellent direction. Mebbe a bad idea to use the Sondeheim as it had obvious connections with Sweeny Todd, but the singing was brilliant. Very atmospheric, very engaging and everything else CJL says. Very different from anything I have seen in prompt - and a benchmark set for what SLT can do in terms of home grown theatre and devising.Excellent.
Thank you for a good night out, SLT. This was a perfect example of non-professional theatre at its professional best.
Hazel Hindle
'Stiff'-Wonderful writing by Matthew, he should definitely try to put the production on elsewhere. Shocking subject matter but intriguing argument. Three very good actors well suited to the parts, and great to see James in his first play at SLT, bravo. Applause for all concerned.
Chris Learmouth
I really enjoyed the second piece. It was so good to see SLT do something a little different. I found it fresh, exciting, and it held my interest entirely as I had no idea what was coming next. A great cast, with lots of good, and very different performances to what i've seen them do before. It's probably not fair to single any out performance, but I will. The young chap, Sams end piece about peer pressure from his mates. There was something very raw and honest about his performance that really moved me.
Anyway, I enjoyed it. To me, this was SLT at it's best.
Well done to all involved.
Naomi Liddle
Well done all for a spooky and entertaining evening last night.
'Stiff' is a dark little masterpiece that had me sniggering throughout and more than once helpless with giggling at some of the shamelessly irreverent writing. Yes it's near the knuckle (and pretty close to some other places too), but by god it's funny. Lovely to see James Webb (hereafter to be officially known as "the multi-talented James Webb"), putting in a great turn as a character you simultaneously want to punch and go for a beer with (maybe that's just me?). I understand this is Finbar's stage debut, which makes his considered, thoughtful performance all the more impressive - someone to watch methinks! Matthew, as ever, draws every ounce from his stage time to complete the trio. My only small niggle might be the choice of music, the serious, mysterious tone of which I found a bit out of sync with the humour on stage, but that's purely a personal thing.
All in all a suitably creepy way to spend a dark October evening.
Gallery
http://www.photos.sltarchive.co.uk/thumbnails.php?album=70
Reminiscences and Anecdotes
Members are encouraged to write about their experiences of working on or seeing this production. Please leave your name. Anonymous entries may be deleted.
References
<references/>