Flatspin (2013)
From sltarchive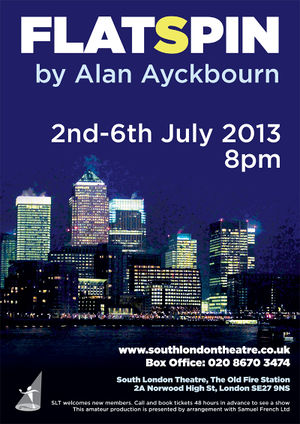 Performances: Tue 2nd – Sat 6th July 2013, Bell Theatre
Introduction
A night of romance in her luxurious riverside apartment with the good looking stranger from next door. How can Joanna possibly go wrong? Except the flat isn't hers, her name isn't Joanna and heaven knows what the good looking stranger is really after. Instead of romance comes considerable danger. A farcical comedy.
Cast
Crew
Thanks to
Robin at the Hope; Matthew Lyne and his bar volunteers; Jeanette Hoile and her FOH volunteers; Jess Osorio and her Box Office volunteers; Lisa Thomas; Mark Ireson; Graham Clements; Gavin Parker and Michelle Thomson; Francesca Blessley; Alan Buckman; the productions of The Boy Friend, Kiss Me Like You Mean It and The Little Dog Laughed.
Reviews
Some review quotes go here
Gallery
Reminiscences and Anecdotes
Members are encouraged to write about their experiences of working on or seeing this production. Please leave your name. Anonymous entries may be deleted.
See Also
Have there been other SLT productions of this play? Link to them here.
Or add anything that is related within this site. The author's page for instance or other plays with a similar theme.
References
<references/>
External Links