Kiss Me Like You Mean It (2013)
From sltarchive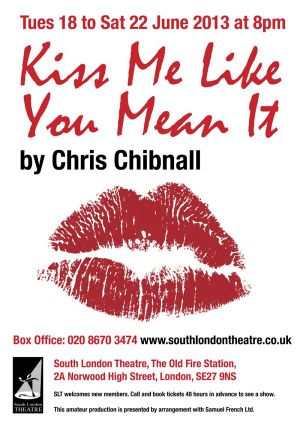 Performances: Tues 18th – Sat 22nd June 2013, Prompt Corner
Introduction
It's 3am on a hot midsummer's night up north. A party is taking place in a shabby Victorian terrace house. In the back garden, Tony and Ruth meet, thanks to a stolen can of beer. On the floor above, Don and Eddie (sic) are having a party of their own. As the night progresses, love is definitely in the air - but then so is the smell of cheap lager. This fantastic romantic comedy was written by one of the lead writers of 'Life On Mars', 'Torchwood' & 'Dr. Who', Chris Chibnall. The story follows these two couples through the early morning to sunrise, showing what the true meaning of love is...
Cast
Crew
Thanks
The Park, The Rosendale and The Hope for the rehearsal space. Chaz and his team for the fantastic set and construction. Gavin Parker for being generally amazing at everything. Lisa Thomas for being my rock. Francesca Bastiani for all the amazing hours she has put in. Dave Hollander for being an amazing rep - thank you for all your support. Floral Hall for the plants. The cast of The Boyfriend and Flatspin who we have shared rehearsal space with. Jess Osorio for swapping rehearsal spaces and the c bar staff at SLT who have kept us sane!
Reviews
Some review quotes go here
Gallery
Reminiscences and Anecdotes
Members are encouraged to write about their experiences of working on or seeing this production. Please leave your name. Anonymous entries may be deleted.
See Also
Have there been other SLT productions of this play? Link to them here.
Or add anything that is related within this site. The author's page for instance or other plays with a similar theme.
References
<references/>
External Links