The Boy Friend (2013)
From sltarchive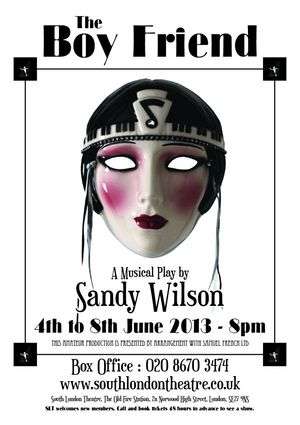 by Sandy Wilson
Directed by Jenny Gammon & Kay George
Performances: Tue 4th – Sat 8th June 2013, Bell Theatre
Introduction
In summer 1920 at a finishing school in the Riviera, two young people fall in love but they're not really who they say they are! Full of hummable tunes, tap dancing and tangos and a sub plot that will leave you smirking, we hope you'll enjoy this spoof on old time musical plays with perhaps just a hint of Ken Russell's visual exuberance.
Cast
Crew
Thanks to:
Nick at The Park; Robin at The Hope; our tireless Bar & Box Office staff; Jeanette Hoile and her FOH and Raffle teams; Emma Kerby-Evans; the productions of Death Defying Acts and Flatspin without whose patience this production could never have been achieved.
A special thank you to Sam Gosden for the replacement piano.
Reviews
Some review quotes go here
Gallery
Reminiscences and Anecdotes
Members are encouraged to write about their experiences of working on or seeing this production. Please leave your name. Anonymous entries may be deleted.
See Also
The Boy Friend 1993 Bell Theatre production.
References
<references/>
External Links