Midsummer Murders (2007)
From sltarchive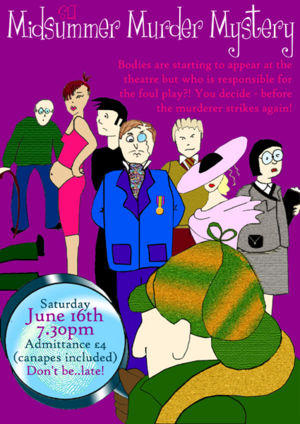 Social event in the SLT Members' Club Bar.
Saturday 16th June 2007
Introduction
Tristan Rock Clymber launches his new political party - The Team Of Social Success!
Clues a plenty, double murders and a fab buffet adding up to a great first Murder Mystery at South London Theatre.
Cast

Written by Samantha Golton, based on huge amounts of wonderful ideas from Louisa Evans and Francesca Wilson
Thanks to: Louisa Evans for the catering
Social Committee - Louisa Evans and Francesca Wilson
The Punters...
Gallery
Reminiscences and Anecdotes
And what a night it was!!!
Thanks to everyone for a great evening, and for all the hard work you put in to make it so. (Although I suspect I won't be voting for Tristan Clymber at the next European elections - a bit too much of a womaniser (and a maniser!) for my tastes.) CD
---
Thanks for a great evening MI
---
What a great night! Thanks to all involved - I thought you were all criminal!! And thanks for a lovely spread too. C
---
...A great evening - but it would have been nothing without an excellent "audience" who actually worked just as hard as we did and really threw themselves into the spirit of the evening. Thanks to you all. CC
---
Many congratulations and huge thanks to the team for a sensational evening all round. Wow, you were all amazing. Roll on the next one. M x
---
Many many thanks to all involved in organising and performing last night. The hard work that went into it was obvious and i really hope you all enjoyed it as much as your audience clearly did. It was a fanatastic evening! I really hope someone will be brave enough to make this an anual event. Well done everyone! Jem and I were Murder Mystery virgins so thanks to the lovely Si for showing us the ropes. Sorry we weren't more help on the deducing front ;o)
---
This was a totally brillant evening - big, big thanks to everybody involved.
---
I know how much work went in to Saturday's Moider Mystery evening, so I was absolutely delighted to see it culminate in such a huge success.
Well written, well organised, well performed and well attended. Well done!
I'd love to see another one on the Social bill for next year.
Si x
---
Thanks for the great night. The cast was superbly dastardly and all potentially homicidal, the clues clever, the company pleasant, the drinks plentiful, the food fantastic - A truly enjoyable evening all around.
I echo the hopes of others (posted here or spoken on the night) that this become an annual event. Had an absolute ball!
Thanks to all involved; organizers, criminals, suspects and amateur sleuths.
Jem
---

Members are encouraged to write about their experiences event. Please leave your name. Anonymous entries may be deleted.
See Also
References
External Links