Murder at the Café Rene
From sltarchive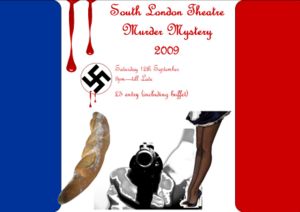 Welcome to the Café René, France, 1940-something.....

Social event in the SLTC Members' Club Bar.
Saturday 12th September 2009
Introduction
Visitors were welcomed to the Café René in the village of Norbois Ouest, a sleepy place in the heart of the French countryside. Gathered together to commemorate poor René (God Rest 'Is Soul...), the villagers were shocked and stunned to witness the murder of the General, leader of the occupying forces..
But who dunnit?
Inspecteur Clueless was the man to help us find out!
Cast
Zee Priest - Mr Punter
Zee Nurse - Ms Punter

Written by Samantha Golton and the cast
Thanks to:
Costumes - the cast, Val and Jess Osorio and James Hough. Big thanks from latter to Julian of Epic Militaria, who went the extra mile to get German costume bits to us in time. Julian is very "peed" off he can't get to SLT shows and events...because he lives in Aberystwyth.
Steve Imrie and Jenny McLaughlin for a fine French Feast.
James Hough and Stuart Grimwood for the German buffet; with of course special mention for the Croydon French Farmers' Market snails (lovingly prepared by Stuart Grimwood).
The Punters... for participation and wonderful detective skills!
Gallery
Reminiscences and Anecdotes
Thanks to all involved for a very enjoyable evening! AC
---
C'etait un soiree formidable, merci beaucoup, Helga et tous les autres! CT
---
We loved it, loved it, loved it.
Can't wait to see what mystery Samantha dreams up for us next year! CD
---
What a great day. First singing with sol la ti then the murder mystery. Bravo to all involved for both events. JC
---

Members are encouraged to write about their experiences event. Please leave your name. Anonymous entries may be deleted.
See Also
References
External Links