Murder Mystery Evening (2008)
From sltarchive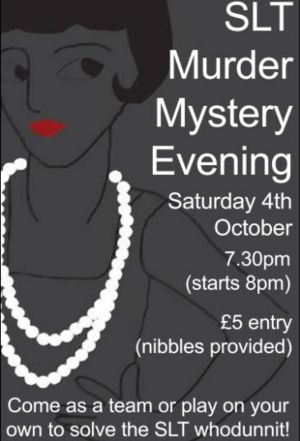 Welcome to the West Norwoodhinton WI Fete, hosted by the fabulous Lady Bunty Crackingrack.

Social event in the SLTC Members Club Bar.
Saturday 4th October 2008
Introduction
Lady Bunty Crackingrack welcomes you to West Norwoodhinton and to the very theatre where she will be performing in The Wizard of Oz this Christmas!
Drool over her beauty!!! Talk about her alot!!! Ask for her autograph!!! Plot her murder!!...?
Ably assisted by Julian Bland, West Norwoodhinton's Scout Master, SLT's finest sleuths spent another evening interviewing suspects to find out who bumped off her Ladyship.
Was it Amelia Innocente, borderline obsessive fan of Lady C, who was booked to play her understudy in The Wizard of Oz? Mr Kenneth, local photographer, who was lined up to do Calendar Girls shoot in West Norwoodhinton that would surely have launched his career.. until Crackingrack disengaged him? The Reverend Feeler, who, it emerged, had been having VERY naughty naughties with Bunty? Miranda Bakewell, village stalwart, who desperately wanted to win the Victoria Sponge competition one more time?
What about sexy secretary Verity Haditoff and Dishy Gardener (his full name), caught in a love triangle with the overbearing Lady C? Penny Tinkles, WI pianist, driven so deaf by Bunty's singing that she failed to hear her beloved's shouted warnings and reversed out of her drive over his prize pooch, thereby ruining her life?
Or was it Felicia O'Hara.... the new, mysterious arrival in West Norwoodhinton.... there's just something about her nobody can put their finger on... (well not in public anyway....)??
Cast
Dishy Gamekeeper - Mr Punter
Penny Tickles - Ms Punter

Written by Samantha Golton and the cast
Thanks to:
Costume - the cast (especially Caroline's scouting friend)
Social Committee - especially Steve Imrie for coordinating a fine WI luncheon
The Punters...
Gallery
Reminiscences and Anecdotes
Well that was an enjoyable evening. fun was had by all. Can i say it's really nice to see lots of new members, old members, guests and the like coming down for our latest social events. it's making it all worth it.
My thanks shout out to the following: by baker ladies - Jill, Caroline and small child, Jenny Bar - Christine
Cast of thousands - Simon, Peter, Guy, Alan, Juliet, Sue, Caroline
Our very own Agatha - Samantha!
And if you wanna know what happend - Bunty doesn't like chilie lipgloss, she was having it off with the vicar, there were tarts a plenty, stalkers r us, and a possible man in a frock! Thanks again. I hope everyone enjoyed it and will be back for Murder Mystery 3 next year. SI
---
Thanks for a really fun night out, the cakes were fantastic and we had a great time. But I'm not going to give up the day job and become a detective just yet, my suspect interview technique needs a lot of work! Cheers!
---
We really enjoyed it Thanks to everyone who put so much into it - all the cast and the great baking! Just the job after spending the afternoon making chutney. A tremendous evening. Well done. MI
---
Members are encouraged to write about their experiences event. Please leave your name. Anonymous entries may be deleted.
See Also
References
External Links