Lettice and Lovage (2002)
From sltarchive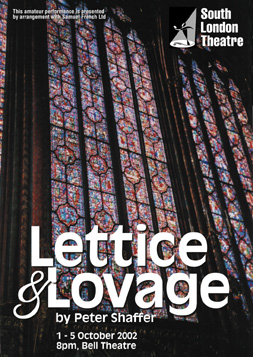 Directed by Juliet Male
Performances: Tue 1st – Sat 5th October 2002, Bell Theatre
Introduction
Lotte is the successful manager of a Trust, which opens stately homes to the public. Lettice is a guide at one of the stately homes. Unfortunately the house has had a very undistinguished career, in fact "it is the dullest house in England." To Lettice, the daughter of an actress who led an all female troupe touring Shakespeare in rural France, this is a challenge she cannot resist. The tours of Fustian House become more and more dramatic, featuring stories of murder by herbs and tragic, crippled heiresses. Lettice is of course found out and Lotte has no choice but to sack her.
From this unlikely beginning a curious friendship begins to develop. The uptight Lotte and the overly theatrical Lettice find they have a great deal in common. They both revere the past with its colour and larger than life characters. They admire idiosyncrasy in behaviour and respect quality in architecture. Together they lament the steady loss of standards in society and they are both appalled by the buildings that they see being put up all over London. Their friendship blossoms in an eccentric but harmless way as they meet each Friday to act out a famous deaths and trials from history. All is well until they dramatise the execution of Charles I. Then things get a little out of hand.
The dialogue is barbed and very funny as the two women get to know each other. Lettice shares nuggets of culinery information drawn from the sixteenth century as well as a wealth of historical anecdotes. Under Lettice's flamboyant influence Lotte begins to relax revealing an equally passionate nature with a dangerous tendency to take radical action under pressure. These middle-aged, genteel women both have a great capacity to surprise.
The play begins with four unforgettable tours of Fustian House when a motley collection of sightseers witness Queen Elizabeth I falling down a staircase closely followed (but one hundred years later) by a large dog and an heiress. It ends with a bewitched lawyer momentarily caught up in the magic of Lotte and Lettice's world.<ref>Director's note from the main SLT site</ref>
Cast
Crew
Reviews
Some review quotes go here
Gallery
Reminiscences and Anecdotes
Members are encouraged to write about their experiences of working on or seeing this production. Please leave your name. Anonymous entries may be deleted.
See Also
The Private Eye/The Public Ear (1969) Black Comedy (1971) Equus (1984) Black Comedy (2007)
References
<references/>
External Links