House of Several Stories (2014)
From sltarchive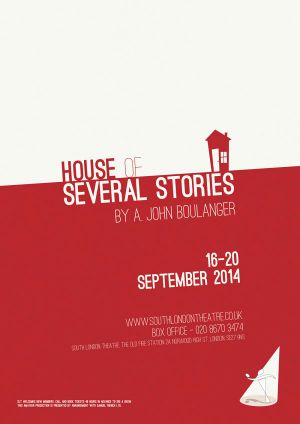 Performances: Tue 16th – Sat 20th September 2014, Prompt Corner
Introduction
I somehow came across this play whilst searching Samuel French for something that would satisfy my love of the dark and bizarre and also would be a challenge to direct. Since starting the rehearsal process, the cast and myself have been round in circles trying to understand the connections and possible other stories in the script. Needless to say, we found ourselves far, far down the rabbit hole and a little bit lost...See you on the other side.
Cast
Crew
Thanks
Many thanks to: The Park, Jack the Ripper, Tooth of Crime, Clybourne Park, Nunsense and Henry V for helping with rehearsal space and reshuffling where needed. Mr A Buckman, who I feel I rather surprised this time round. Sophie for being unflappable. The cast for sewing, painting, building, doll-hunting and other escapades. Siobhan for the loan. The wonderful bar staff for watering us all. Mark & Lee for being the reliable fellows they always are. Naomi for not questioning the missing household items.
And Mr A John Boulanger, for a very intriguing script...
Reviews
Some review quotes go here
Gallery
Reminiscences and Anecdotes
Members are encouraged to write about their experiences of working on or seeing this production. Please leave your name. Anonymous entries may be deleted.
See Also
Have there been other SLT productions of this play? Link to them here.
Or add anything that is related within this site. The author's page for instance or other plays with a similar theme.
References
<references/>
External Links
Edit Categories below - Bell or Prompt AND THEN REMOVE THIS MESSAGE!