Enchanted April (2010)
From sltarchive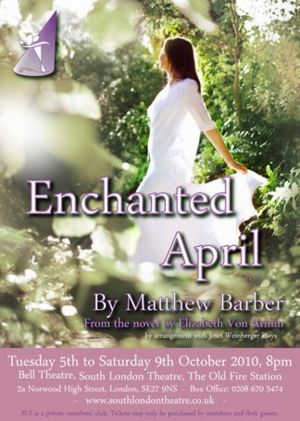 by Matthew Barber, from the novel by Elizabeth von Arnim
Directed by Lily-Ann Green
Performances: Tuesday 5th to Saturday 9th October 2010, Bell Theatre
Introduction
The story of four dissimilar women in 1920s England who leave their damp and rainy environs to go on a holiday to a secluded coastal castle in Italy. Mrs Arnott and Mrs Wilkins, who belong to the same ladies' club but have never spoken, become acquainted after reading an advertisement for villas for rent in a newspaper. They find some common ground in that both are struggling to make the best of unhappy marriages. Having decided to seek other ladies to help share expenses, they reluctantly take on the waspish, elderly Mrs Graves and the stunning, but aloof, Lady Caroline. The four women come together at the castle and find rejuvenation in the tranquil beauty of their surroundings, rediscovering hope and love.
Cast
in order of appearance
Crew
The Company would like to thank (among lots of others): Alan Buckman, Emma Kerby-Evans and Emmaus for props. All friends who helped build the set, Jeanette Hoile, Carole Coyne and Dave Hollander, Naomi Liddle and the casts of Cat on a Hot Tin Roof, Saucy Jack and Burnt by the Sun. Also KDC Theatre Co., Emmanuel Church, Streatham, the lovely bar staff of SLT and Mr. BarRota, and of course long suffering spouses and partners of cast & crew.
Reviews
Firstly, I should say that I know and love the novel upon which this play is based. My battered Virago Modern Classics edition is something that I turn to whenever I need to escape to somewhere warmer and more more magical. When you know something so well, and love it so much, you can't help but be slightly anxious about seeing it on stage.
Enchanted April cast, crew and production team: you did Elizabeth Von Armin proud. This is such an innocent, gentle and charming piece, and under the wrong direction and with the wrong actors, it could easily slip into pastiche and the beauty would be lost. As it is, under Lilly-Anne's careful direction, it stays sweet and never strays into saccharine.
Wonderful acting from the entire cast - every character was played true to the spirit of the play, with transparency and honesty. Special mentions go to Caroline (Doyle), who was languidly brittle and so ravishingly beautiful in her Lou-lou bob, and Caroline (Durant), who clearly relished her role as Constanza and was fully convincing as an Italian matron.
As the two central characters, Lottie and Rose, Emma and Victoria just shone. This was wonderful, natural acting and it was their characters, and their personal journeys which carried the play. Watching the change in Rose's face as she blossoms in the 2nd act, swept along by the beauty of Italy and the child-like enthusiasm of Lottie was a joy.
Do go and see it: the narrative, the acting, the costumes, the set... it's simply beautiful. Judging form the cheers at the end, I know that I wasn't the only audience member who was enchanted last night.
It is incredibly well cast and directed and there are some beautiful pictures created on the stage, in addition to many engaging and funny moments. Special mention (on my part) goes to Caroline Durant for her wonderful cameo but all cast and crew deserve to pat themselves on the back.
I came home feeling even warmer and happier than I usually do after an evening at SLT.
Thank you all but a special mention should go to Chris Briggs and Adam whose characters were lovely too.
Gallery
Reminiscences and Anecdotes
Members are encouraged to write about their experiences of working on or seeing this production. Please leave your name. Anonymous entries may be deleted.
See Also
Have there been other SLT productions of this play? Link to them here.
Or add anything that is related within this site. The author's page for instance or other plays with a similar theme.
References
<references/>
External Links