Burnt by the Sun (2010)
From sltarchive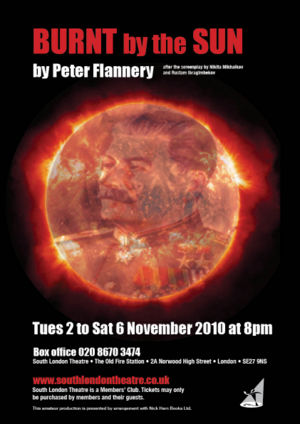 Directed by Lisa Thomas
Performances: Tue 2nd – Sat 6th November 2010, Bell Theatre
Introduction
It's 1936. General Kotov, a hero of the Russian Revolution, is spending summer at his country dacha with his adored wife Maroussia, their daughter, Nadia and members of their extended family. When Mitia, Maroussia's former lover, returns from a lengthy and unexplained absence, sexual jealousy, retribution and political backstabbing combine as Kotov is subjected to the terrifying reach of Stalin's rule.
This brilliant play premiered at the National Theatre in 2009. It's closely based on the 1994 film of the same name which has become a modern classic (and has in fact recently inspired a sequel). It combines both a powerful love triangle and a look at the paranoid politics that were already apparent prior to Stalin's great terror. An apparently idyllic summer becomes the backdrop to fear, betrayal and ultimate disaster for the family.
Cast
Crew
Reviews
Jim O'Mulloy
I saw the first night and I think it is a beautiful, subtle and highly poetic play, incredibly well perfomed and neatly staged. Please pass my appreciation on to all your cast and crew.

Caroline Doyle
Ok. I went on Tuesday and was very impressed.
Large cast beautifully marshalled into an extended family with all the in-fighting and bickering that involves.
Tense situations often relieved by little comedy moments.
I was genuinely torn between the three main characters. Wanting to support all of them and not knowing how to resolve this, until it was resolved for me and made me sad. But in a very good way.
Gripping acting, a good play and a very vivid insight into a slice of time from the past.
And Naomi's swimsuit eclipsed Matthew's trousers for me, no problems!

Carole Coyne
This play was adapted from a film script written by two guys with Russian names so perhaps written in Russian. The playscript in places suggests a translation and there are moments when you suspect that the back story was illustrated by film and I think perhaps the playscript should have done more to overcome this.
It is however a very good story but moved at a film pace. Matthew's character, Kotov, showed very well the roughness and force and pushiness that it must have taken to get to this more gentle place and Naomi showed clearly how she had been attracted initially to this force and now loved the slower family life that followed.
The scene changes were far too long and complicated and allowed the energy in the audience to drain leaving the actors a harder job for the next scene.
Lovely acting, clear direction but too slow and missing the tension of the situation outside the comfort of the house. We needed to see the coiled tension that everyone was trying to ignore.
Another worthwhile evening at the theatre though - thank you all.
Very interesting that later this month we have another play which is also better known as a film.......

John Collis
Thank-you again for inviting me to your production. I really enjoyed Burnt by the Sun, and found the second act quite chilling, as the relationships of act one turned nasty. You have some accomplished actors; congratulations on your work as director. It was good to see the facilities at South London Theatre for the first time. I hope that your last night went well. Do tell me about your next show!
Gallery
Reminiscences and Anecdotes
List of 'Stuff we need' posted on Discussion Board
Flute
Cornet
Tambourine
Gas masks
Russian military revolver and 3 other 1930s or similar era Russian hand guns
Really old sit up and beg bike (suitable for man to ride) Supplied by Michael Wilson
Small wicker or garden occasional tables (2 or 3) ideally with some matching chairs -supplied by Michael Wilson
Bugle - supplied by James Webb
Accordian - supplied by Chris Briggs
Guitar - supplied by Mark Ireson
Old (ideally 1936) copy of Pravda
2 or 3 old stretchers - found in Rehearsal Room - one particularly aged one was sat on by a child and ripped instantly
Silver cigarette case - supplied by Chris Briggs
Old vodka bottle
Military radio set c.1930s - supplied by James Hough - HIS OLD MOBILE PHONE)

Costumes
1930s Russian General's costume
1930s Russian tank officers' costumes
both eventually supplied by Sabre Sales, Southsea

Costume 'issues'
As is probably clear to anyone who knows me, I am a total costume geek. I felt that for the authenticity of the play and characters that it was necessary to make special high-waisted linen trousers for both my lead actors to give the correct 'louche' 1930s feel to the piece. They have been superbly sporting about wearing them but for some reason the white ones have attracted most attention and I hate to say it, opprobrium.
We also took a trip to the Southsea emporium that is Sabre Sales with its fantastic collection of militaria, presided over by the low-key but amazingly expert Dickie, who despite protestations that he didn't really have anything Russian from our period, managed to kit Matthew out in a manner that would have made any self-respecting Bolshevik general proud. And Adam and Daniel as the leather-jacketed, booted Tank officers have the best costumes ever for a five-minute role.
See Also
Have there been other SLT productions of this play? Link to them here.
Or add anything that is related within this site. The author's page for instance or other plays with a similar theme.
References
<references/>
External Links
Details of the 2009 National Theatre production can be found at [1]