Cat on a Hot Tin Roof (2010)
From sltarchive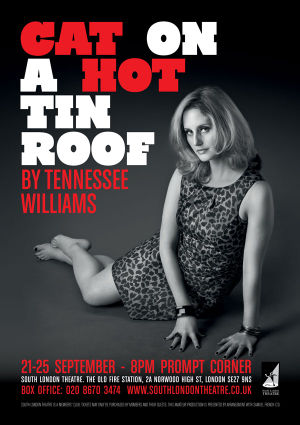 Directed by Karina Lickorish Quinn
Assistant Directed by Matthew Slight & Tom Quinn
Performances: Tue 21st – Sat 25th September 2010, Prompt Corner
Introduction
The dysfunctional Pollitt family is gathered in Big Daddy's house for his 65th birthday: Maggie the Cat and Brick the apathetic alcoholic, struggling in the remains of a dying marriage; Mae and Gooper with their monstrous children and avaricious plans; Big Mama, floundering and craving affection; and Big Daddy, sickened with the world and with mendacity.
This is going to be a vibrant, steamy, high-fashion production, bringing the story into the modern day. Despite the attractive front, this family are dealing with the very real and tragic issues of alcoholism, marital breakdown, and cancer.
In the insufferable summer heat the family is confronted with difficult questions. What is wrong with Big Daddy? Why does Brick drink? What is the victory of a cat on a hot tin roof?
Cast
Crew
The casts and crews of Moonlight & Magnolias and Enchanted April; Lisa Thomas, our Theatre Rep, for her advice, support and contacts; Naomi Liddle and Chaz Doyle, for donating and helping transport the bed; Isabelle Benard and Sue Jacobsen, for lending us their talented children; the Box Office, Bar, Publicity, and Front of House teams. The play is presented by special arrangement with the University of the South, Sewanee, Tennessee, USA.
Emmaus South London The Unique Self-Sufficient Homeless Charity. Only two minutes from South London Theatre: West Norwood's Best Kept Secret! 7-9 Knight's Hill/ 4 Beadman Street, SE27 020 8761 4276 www.emmaussouthlambeth.org.uk. Quality Furniture/Electricals/Boutique/Clothing & Collectables.
Reviews
I once used a brief excerpt of one of Big Daddy's speeches to audition for a part in Twelfth Night and drew a moustache on. I am not sure what Mr Vause, then Head of English at my school, made of this debacle. I didn't get the part, naturally. Even at school we had some standards!
I use the above to briefly explain my very first encounter of COAHTR- a nicked copy of the script and a completely terrifyingly bad rendition of an incredibly inappropriate part. My understanding of the play did not increase between then (I was 16) and earlier this year when I went to see the version in the West End which had Adrian Lester playing dullest Brick imaginable. There was some spectacularly awful direction too, that had some characters prancing across stage in fits and tantrums that seemed utterly illogical. Needless to say, I completely hated it. I saw few redeeming features in the writing and as for the acting, only Big Daddy was worth his salt. The only part I really enjoyed was watching Adrian Lester taking a shower at the start.
It was, therefore, with some trepidation that I rocked up last week to see what Karina Quinn and her team made of the TW 'masterpiece'. Obviously I wasn't expecting much, and thanks to TW's special skill at capturing so perfectly the inanities of idle conversation, I remained, for the most part, glum after the first act. Boring conversations in real life, I would argue, are still boring on-stage, and if you bury little gems in them too deeply the audience is left non-plussed and distracted.
The quality of the performance and direction, was, however, not in question. I had actually been compelled to warm affection for Elizabeth Murphy's Maggie, when, possibly for the first time, I discovered how she reacted to her perception of her husband's relationship with Skipper. Not the act of sleeping with him, but the acceptance she bore of being second in his life was intriguing and portrayed with an earnest that had me leaning in, hungry for more. Elizabeth's performance was strong and solid, and her 'bedwork' was deliciously feline. I got a little distracted by her arms though (I don't think I heard anyone else say this, mind), particularly in the first act. Without doubt, such a long and rambling monologue is challenging to deliver, and as a consequence, variation in tone and pace is utterly crucial to maximise- to keep the audience listening (I wanted more), and arm-waving an almost inevitable side-effect that needs to be brutally attended to as early on in the rehearsal process as possible as it will always creep back in without intention on the part of the actor! I don't think it would have harmed the play to allow a Maggie's various stories to be broken up a little more obviously.
However, when she said to Brick, 'Well then you haven't been listening to me!', I completely felt her frustration with him, and even shook my head and rolled my eyes at him- which meant I had finally 'got' an aspect of her I missed when I had seen it previously- and the determined tendrils of my COAHTR disdain were beginning to loosen. A strong performance, delivered very well. I also completely loved her relationship with Mae- wicked, wicked- very catty indeed!
Of the main characters, we also met Brick (Baron Anyangwe) and Big Mama (Estelle Buckridge) in the first half (as I recall, perhaps incorrectly).
Baron's Brick was perfectly brooding and difficult, and the status change from his 'conversation' with his wife to the later scene in the second act with his father (where a half-reluctant subservience came into play) was a particularly satisfying watch. I was desperate to see some of the good, honest, happy emotion he described of his relationship with Skipper. Throughout I felt that his character did have that capacity- explaining, in part, Maggie's determination to stick by him. I'm afraid Adrian Lester, to my mind, did in no way achieve that but this subtlety, intentional or no, helped bring this character to life for me. I completely believed him, and Baron delivered a tragic Brick, a broken, betrayed (or so he felt) man that simply could not be hated. Bravo.
Big Mama's loud, boisterous entrance was a great tension breaker and Estelle seemed to be having a whale of a time delivery this larger-than-life character with gusto. Good physicality helped to convince us of her age and strong sense of maternal duty. Great comedy, and nice use of the phrase 'spastic colon'. It had us all giggling away on the Wednesday night.
The second act saw the development of the full relationship web through the bustling activity of an extended family gathering with all of its flashes of frustration and scheming. Finally, Willams comes into his own, and I began to realise what all the fuss is about. Again, carefully thought out blocking kept me convinced of the events. I did also enjoy the fireworks.
My attentions in the second act were, rightly or wrongly, chiefly focussed on Big Daddy (Michael Wilson) and Mae (Katie Elston), although the ensemble scenes were excellent and the relationships well maintained through great attention to detail. Gooper (Tim Witcomb) also stood out and had a perfect mix of insipid and passive-aggressive. It was one of the most rewarding things to see him shut his wife up on the occasions where he finally took control.
Which brings me neatly onto Katie's Mae. What an utterly vile creature. Exquisite. Her complete lack of earnestness and overwhelming fakeness set her apart from the others who all had their turn at expressing at least some genuine emotion. It is the only cop-out I think Williams affords us- in that everyone hates Mae from the off, which, as it turns out, makes her the only character the audience can share the same opinion about. Thus I enjoyed a more straight-forward portrayal; it was a relief not to have another deeply complex character to try and work out. If she had betrayed genuine affection for her children (or child in this case) or Gooper, she would have lost her impact of being deliciously vicious under her saccharin coating. A perfect blend of smart direction and the very strongest acting ability for me. Spot on.
Michael Wilson did a good job of Big Daddy, but I was left unconvinced about his final acceptance of his condition after telling his son how terrified he had been. The same could be said of his allowing his wife to 'come up to the roof' with him. It is possible that this suddenly-appearing Zen sat a little oddly because his terror of cancer felt too real, and going onto the balcony he seemed actually pleased to have his wife join him. What happened to the aforementioned 'Mendacity?' I also wanted him to say 'Crap!' a bit more!
Technically I thought Karina and her crew achieved a near-to-perfect production. I wish that Brick's ice didn't have to be mopped up in a specifically designed break in the second half- the audience all started fidgeting- and there were some lighting cues which seemed odd (in that I noticed them) also in the second half. If the cues were part of the design I don't know why, but if they weren't, then I completely understand, having operated lights in that lighting box in Prompt myself!
Overall, this production was exceptionally well executed and I am sorry if you didn't manage to get a seat, but it deserved the full houses it got. Karina's choice of play and quality of direction has also brought some stonking new talent to SLT who, I for one, hope to be working with again as I think they have an abundance of talent to learn from. Thanks to absolutely everyone involved- it's no mean feat to pull off a play like this. I promise I can be quite stubborn when it comes to my opinions on plays and by the end of the night I had to reluctantly agree that TW did a pretty good job after all and, frustratingly, it was a bloody clever piece. *Sigh* I so did want to hate it all over again.....
Gallery
Reminiscences and Anecdotes
Members are encouraged to write about their experiences of working on or seeing this production. Please leave your name. Anonymous entries may be deleted.
See Also
References
<references/>
External Links