Darwin in Malibu (2010)
From sltarchive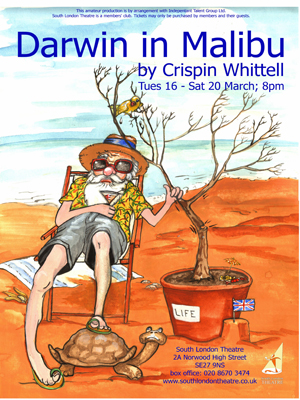 Directed by Naomi Liddle
Performances: Tue 16th – Sat 20th March 2010, Prompt Corner
Introduction
"No, really, who needs evolution when you have plastic surgery?"
Malibu, California. The present. Charles Darwin has wound up in a beach house overlooking the Pacific with a girl young enough to be his daughter. One hundred and forty-five years have passed since the publication of The Origin of Species, and over a hundred and twenty years since Darwin's own death. But his peace is rudely disturbed when his old friend Thomas Huxley washes up on the beach, closely followed by the Bishop of Oxford. Darwin suddenly finds himself entangled in a sparkling comedy of life and death, love and loss, and the sex lives of hermaphroditic barnacles.
Cast
Crew
Huge thanks to.... ...James Hough and the cast and crew of The Ruling Class (2010), Maria, Stuey and Peter, James Webb for being generally smashing, Kay George for keeping us in line, Emma Kerby-Evans for the furniture, Val Williams for her wardrobe magic, Chris VS, Jenny Gammon, Matthew Lyne and his merry band of bar volunteers, Chaz for his infinite patience, and of course Mark Bullock, for originally submitting the show - I hope we've done you proud.
Reviews
Some review quotes go here
Gallery
Reminiscences and Anecdotes
Members are encouraged to write about their experiences of working on or seeing this production. Please leave your name. Anonymous entries may be deleted.
See Also
Have there been other SLT productions of this play? Link to them here.
References
<references/>
External Links