The Ruling Class (2010)
From sltarchive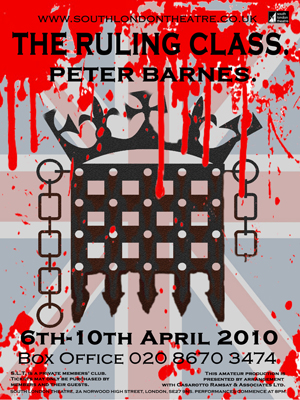 by Peter Barnes
Directed by James Hough
Performances: Tue 6th to Sat 10th April 2010, Bell Theatre
Introduction
After his father's death in a bizarre accident, Jack Gurney is released from the mental institution where he is being treated for paranoid schizophrenia, to become the fourteenth Earl of Gurney. His Christ-delusions wreak havoc on the horrified family and they scheme to have him committed for good. Absurdist, sharply written and satirical, Peter Barnes's tour de force pours scorn on the concept of inherited power and those who wield it. Also involves singing, dancing, sword fighting and is generally barking.
Cast
Plus Iona Conway as recorded voice of Victorian whelk-selling girl and Oliver Retter as recorded voice of Victorian paper boy.
Crew
The director cast and crew would like to thank the following for their help: Naomi Liddle and the cast and crew of 'Darwin in Malibu'/Lorraine Spenceley and the cast and crew of 'Skellig' (for their charming co-operation and understanding; the bar, front of house and box office teams; Hadley Smith and Yeatman & Sons, funeral directors (for loan of the box); Andrew Chadney for the cassock and surplice; Caroline Doyle (for the caliper); Alan Brown (for technical support); Michelle Thomson (for the instrument); Anton and Chris from the West Norwood Emmaus Community (for loan of the tea trolley); The South London Theatre Committee (for letting us do it).
Reviews
Some review quotes go here Previews:
Michelle Thomson:
I saw this last night, and although I'm not allowed to give too much away I can say that it is most enjoyable, rather mad in a typically Houghesque way, and that Gareth Rickards' performance alone will be worth the ticket price. Best of luck to all cast and crew next week
Hazel Hindle:
I have never witnessed the ranting of a paranoid schizophrenic but I'm sure that Gareth has absolutely captured the character. There are so many funny moments in this play and - there is something for everyone (including beautiful singing from Jenny)!. A very entertaining evening, I thoroughly recommend this play.
Jenny Gammon:
Can't do a review for love nor money as it'll give away absolutely everything and photos too are strictly censored, I understand. All I can say is this play is unbelievable: characters - unbelievable; set - unbelievable; lighting and sound, costumes - unbelievable...ALL IN THE NICEST POSSIBLE WAY. It's a comedy - no it isn't..it's a strict dramatic look at the ruling class - not not quite ... it's panto - nope ... it's an indepth political satire - close... it's a bloody good evening out. Oh hang it all, you'd better go and see for yourself. Thank you Mr Hough for letting me in to enjoy the Dress Rehearsal.
Reviews
Anon:
Thought the play was excellent, a little too bonkers to be fully appreciated by me, but full marks for effort, production, attention to detail, acting, direction etc
Your leading man would be excellent in musical theatre (the professional stuff and not some of the musical crap sometimes seen at SLT!), well cast. Personal favourite was Bob's unintelligible Scotsman, but also very much entertained by the opening scene, the pair of blue-rinsers, and the butler.
Simon Holland:
James Hough instinctively knows how to present a difficult and off-the-wall play. He attacks dense scenes with pacy, will-timed, unencumbered direction, makes tricky scene changes (which would otherwise be a tedious bore) into an opportunity for slapstick, comedy sketchette, or simply has a stage-hand ram a beautifully painted board on runners behind the players (hey presto — a garden!), and allows actors to explore the breadth of their characters without grand-standing. He has a true ear for sound, knows how to employ a strategic musical interlude for maximum comedic effect, and has an enviable library of effects and styles. James apparently finds directing stressful (he says), but perhaps that's because he labours with every detail and (thus far) packs so much energy into his productions. I have yet to be directed by him, but he's one of the people I always try my best to get on board with. The lead is amazing, and drives the whole thing forward. I think that's essential — obviously, you're lucky to have him, but the other production values were all spot-on for me. Especially your use of sound, as always, was ace.
But you know me. I'm a fan of your work.
The "Explorers":
Well! What a bizarre evening! And, as you said, funny, frightening, very long and absolutely barking. The Explorers were slightly stunned, but full of admiration. And where did you find that actor? What a sizzler!
David Lomas:
Of course this is completely bonkers - but also enormous fun - with a very impressive mercurial lead by Gareth Rickards (suggesting Jim Carrey at times - in a good way!) and some very cherishable supporting performances as well. I'm surprised there are not more appreciative comments on here. Go see while you have the chance!
Adam Crook:
I came to see this on Wednesday night, and had a fantastic evening. I don't think I could write a review of the production, partly because I don't think that I could give it justice but also because I wouldn't want to give anything away.
What I will say is that the performances in this are excellent, and it's a very entertaining (and odd!) piece of theatre. Many thanks to James and all others involved for giving us such a fun evening out. If you haven't been down to see it already, I'd recommend that you change that by going tonight or tomorrow night. Or both nights, if tickets are available!
Caroline Durant:
I'm very glad I made the effort to come and see this play. The performances were all excellent, and there was plenty of food for thought in the play itself - I've been going through it all in my mind this morning! I find it particularly intriguing how the 'electrotherapy' shocked 'our hero' into being Jack alright - just the wrong Jack. (It's the wrong trousers, Gromit ...)
Jack himself was a real tour de force; clearly modelled to some extent on Jim Carey, but nothing wrong with that. The actor didn't hold back at all, which made for exciting, unsettling viewing. As he was the central character, his performance made the play, of course, but all the other actors really stepped up to the mark too. Alan was brilliant - and very nice pins, too - as was John Lyne, but there wasn't a weak performance in the whole show.
My only criticism was that the play was a little too long, especially for me, as I tire easily at the moment (I may have missed one or two little bits in the first half while I was 'resting my eyes'), but that's the fault of the writer. Kudos to James, then, for his excellent casting and directing - and of course for his choice of play.
Mark "N":
As a brand spanking new member, last night was my first experience of an SLT production - what a blast! I loved it! The story was a hoot and very very funny. The acting was spot-on (with a touch of ad-libbing: "Bless you!" to the sneezing audience member in the 2nd row). Thanks to all those involved, seen and unseen. I stand in awe.
David Clements:
I loved it!
I thought that the ruling class was brilliant! The set was fantastic. John Lyne and Michael Wilson were my favourite bits of the show. Jack was annoying at times but still gave a hilarious performance! The whole cast in fact were brilliant! The only bad thing I have to say about it is that I couldn't hear a few of Dinsdale's lines. Michael Wilson hanging himself made the man in front of me gasped in horror. Thank you for a very enjoyable evening!
Oliver Retter:
Well, if I had to sum up The Ruling Class in one word, it would have to be the word brilliant. The Ruling Class by Peter Barnes is a play to look out for. It's something that you wouldn't expect. With a gripping and frightful storyline of the untold back-story of the fabled, monstrous legend that is Jack the Ripper; an amazing cast that portrayed their characters beautifully that when first introduced immediately showed off their personality and their emotions towards other characters. Costumes and a set that was truly amazing to see and the attention to detail were so brilliantly made. The Ruling Class is BRILLIANT!
The storyline was truly fascinating as were the characters that were being portrayed. I certainly take my hat off to most of the cast, especially to Gareth Rickards who played the vicious yet delusional Jack, the 14th Earl of Gurney who, for most of his lines spoke at super-speed yet he did it wonderfully making his character a joy and a wonder to watch. (I could never do that!). Also taking my hat off to Jenny McLaughlin who played the seductive and witty Grace Shelley who at various points gave a lovely and beautiful song, which was perfectly done, and her voice truly is a wonder to behold. Two hats I need to take off for goes to Alan Buckman who played a comical Bishop Bertrand Lampton and also the well-mannered Mrs Treadmill and both characters were stunning and dazzling to watch as he brought a light-hearted tone to the show (especially after being touched on stage like that!). The other hat goes to Michael Wilson, who played, although a very brief but an intriguing 13th Earl of Gurney who had to hang himself at the end of his scene which was a heart-stopper to watch as he died beautifully! My final hat to take off to, is for John Lyne who played the obedient yet witty Daniel Tucker, a wonderful character that brought a smile to my face when he entered the stage, and the witty personality and very essence of Daniel Tucker made the play a wonder to watch. The stunts performed were shocking to watch, the set was beautiful and the cast was truly amazing. It is definitely shown that every cast and crewmember had worked their very hardest for the play and I'll let you in on a secret, IT PAYED OFF! So well done to everyone and remember if you hear a 'Help! Police!' or 'Read all abou' it! Read all abou' it!' you know Jack's struck again!
Stefan Lorett:
OK play, rather good I thought, the only minor tweaking that occurred to me was that I would have toned down the Earl in the last couple of scenes..... though having said that I did enjoy the cutouts with the heads poked through, which lifted the House of Lords scene; I had read the script earlier this year and felt that would be one of the harder ones to liven up as it's a trifle didactic compared to the rest of the play. Of course compared to modern satire the whole play is firmly 'on message' but still good fun. Would I have put more emphasis on the venality and greed of those family members, the doctor's research? Probably not- don't want to make it too clunky.
The first act with the Earl's mad rambling word association football and all that had a vague hint of David Tenant as Dr Who ( a compliment by the way) and the pace was excellent. Derek mentioned that it had sped up during the final rehearsals which seems to always be the way. But overall it hung together and despite being half a century old translated well into the 21st.
Thinking about plays critically is always an interesting exercise because you have to decide what your criticism is of: the script? the production, i.e. the staging? or the individual actors and how they inhabited the roles? Does an overly strong actor boost a minor character at the expense of what might ostensibly be the lead? Staging a play fifty years old relating to an England that has changed socially alters what preconceptions the audience brings to a particular production.... crikey no end to this things.
Aber ja, my British friend you have made of this a fine show and can rest on your laurels for a little while.... then I expect a Ionesco!
Gallery
Click on thumbnail for larger image
All the shots are available via this link:
www.philgammon.co.uk/ruling_class
Reminiscences and Anecdotes
Members are encouraged to write about their experiences of working on or seeing this production. Please leave your name. Anonymous entries may be deleted.
References
<references/>