Butley (2013)
From sltarchive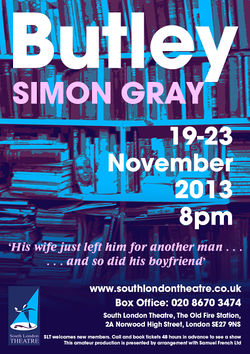 by Simon Gray
Performances: Tue 19th – Sat 23th November 2013, Prompt Corner
Introduction
Ben Butley's world is falling apart. A university lecturer, he turns to drink as a succession of disasters occur: first his wife leaves and then his protégé, Joey, announces that he is shacking up with a new boyfriend. Against a background of petty university politics and unease about student dissent, Butley greets his foes with a blistering torrent of repartee.
Cast
Crew
Thanks
Mine Bar for rehearsal space; the cast and crew of The Female of the Species and The Piper (sic); Emmaus for the loan of furniture; Caroline Doyle and Mark Ireson for the bookshelves; Box office, front of house and bar staff and all the volunteers who keep SLT going.
Reviews
Some review quotes go here
Gallery
Reminiscences and Anecdotes
Members are encouraged to write about their experiences of working on or seeing this production. Please leave your name. Anonymous entries may be deleted.
See Also
References
<references/>
External Links