The Female of the Species (2013)
From sltarchive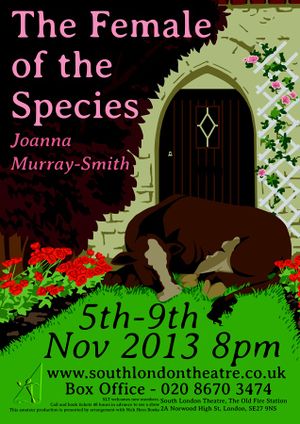 Performances: Tue 5th – Sat 9th November 2013, Bell Theatre
Introduction
Margot Mason, Feminist, writer, and fearless academic is trying to write her next life-altering bestseller in her cottage in the country. Despite having radically changed women's lives with her controversial books again and again, despite international acclaim and celebrity, Margot is wrestling with writer's block. Enter Molly, student and idealist, one of those most deeply affected by Margot's writings. But this is not a fan visit: Molly has issues. What unfolds is a deliciously wicked comedy that deftly walks the tightrope between satire and farce.
Caroline Doyle, Director.
Cast
Crew
With thanks to ...
Thanks to Gavin Parker, Chaz Doyle and Anton Krause for helping to get the set up in record time. Thanks also to all the front of house, box office and bar volunteers without whom this just wouldn't work. Also many thanks to all at The Park. As so often happens, the cast and crew have worked above and beyond to make this show the little slice of gorgeousness you are about to experience, but special thanks has to go to Alan Buckman who, despite ill health, has created a country hide-away that I, for one, would rather like to live in.
Reviews
Some review quotes go here
Gallery
Reminiscences and Anecdotes
Members are encouraged to write about their experiences of working on or seeing this production. Please leave your name. Anonymous entries may be deleted.
See Also
Have there been other SLT productions of this play? Link to them here.
Or add anything that is related within this site. The author's page for instance or other plays with a similar theme.
References
<references/>
External Links