Piper (2013)
From sltarchive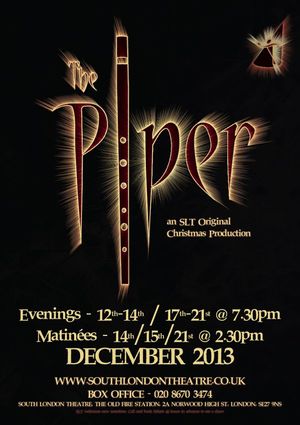 Performances: Thu 12th – Sat 14th & Tues 17th - Sat 21st December 2013, Bell Theatre
Matinees: Sat 14th, Sun 15th & Sat 21st
Introduction
Text about the play
Cast
Punk Cast
Jacob - Louie Amos
Jemima - Lola Rafferty
Jasper - Luke Suthren
Juliet - Polly Dean
Jerome - Charlie Walker
Big Tom - Rosa Amos
Metal Cast
Jacob - Eleanor MacMillan
Jemima - Tabitha McLachlan
Jasper - Logan MacMillan
Juliet - Madeleine Tombleson
Jerome - Roisin Sharma
Big Tom - Louie Chapman
Soul Cast
Jacob - Skye Williams
Jemima - Lola Brocklehurst Curry
Jasper - Finley Robertson
Juliet - Anna Lamacchia
Jerome - Sesina Mehari
Big Tom - Ashleigh Curry-Machado
Crew
Thanks
As usual there are (sic) an enormous amount of people to thank, so I'll keep this brief: The Park, The Hope, Ogirasol, Jane O'Hanlon, the tireless staff of the SLT Bar, Alan, Gerard, Gavin, the cast for additional lines and lyrics, the crew for additional painting, Box Office (especially Jess), Front of House, Melissa Williams, people who have bought me food and drink, and of course my darling wife who hasn't yet smothered me in her sleep. There's always time...
Reviews
Some review quotes go here
Gallery
Reminiscences and Anecdotes
Members are encouraged to write about their experiences of working on or seeing this production. Please leave your name. Anonymous entries may be deleted.
See Also
Have there been other SLT productions of this play? Link to them here.
Or add anything that is related within this site. The author's page for instance or other plays with a similar theme.
References
<references/>
External Links