Brontë (2013)
From sltarchive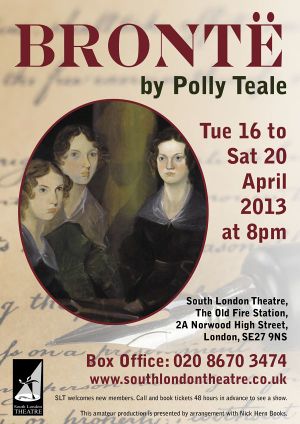 by Polly Teale
Directed by Lisa Thomas
Performances: 16th - 20th April 2013, Prompt Corner
Introduction
Three sisters, living in an isolated parsonage at Haworth at the edge of the Yorkshire Moors, wrote some of the most passionate and enduring literature of all time. The play centres around the return of the drug-addled and alcoholic brother, Branwell, to the family home, following an affair with the mistress of the house where he was employed as a tutor. His turbulent presence brings chaos to the household and the sisters write and lose themselves in the fictional works they have written. Reality mixes with fiction as several of their most compelling characters haunt the sisters.
Cast
Crew
Thanks
The cast and crew would like to thank the following people and organisations who have helped with this show: The Hope and The Park for rehearsal space; bar and box office staff, Theatre Committee and rep Jess Osorio, cast and crews of Timon of Athens, Bent and Death Defying Acts; Caroline Doyle, Kathryn Ramsay and Naomi Liddle for costumes.
Reviews
Caroline Beckett Came to see the show last night and enjoyed it very much - great insightful play, really well acted by a focused and versatile cast who've been skilfully directed. Set looked good too - liked the "floorboards"!
Well done to cast and crew and really hope you get packed houses for the rest of the run - you deserve it. Go see it people!
David Cox I must confess that I have never read Wuthering Heights, Jane Eyre or Agnes Grey. So I couldn't claim to be a Bronte buff before seeing this play. But that presented no barrier to my understanding of the plot or performances. As the play progressed I was surprised by how much I was familiar with, through our general cultural osmosis.
Each performance was very convincing and well defined. Some of the actors played multiple roles and deftly transformed between them without causing any confusion. (Chaz Doyle's hair acting versatility alone deserves a special mention). It's a thought provoking play, not only on a biographical level, but also on the philosophical nature of writing and our need for recognition. I really enjoyed it.
I just realised I may becoming a Bronte buff.
Sarojini Excellent play and superbly acted. Brill you are involved in something like this. Thought provoking and makes me want to know more about that family.
Naomi Liddle Saw this last night and it certainly inspired a great deal of discussion in the bar, both about the play, the production and the subject matter. Which is always a good sign!
I have to say I am not a fan of the writing itself - as with many biographical pieces, I personally felt that it seems to have been written by someone who knows a lot about their subject and really wants to impart all that knowledge on to the audience, often at the expense of 'real' conversation and human interaction. I found myself often just starting to see the relationships between the family in an intimate scene when suddenly a big chunk of historical exposition - about mills, or poverty, or the railways - would be crowbarred in. I could never quite get a handle on who they all really were, rather than what they did or wrote, and as such rather than being swept away by their stories I left feeling a bit like I was going to have to write an essay about it all when I got back to school.
BUT my issues were all with the writing, not the production, which was handled beautifully by both cast and director. Lisa has dealt with the eposodic nature of the play with fluid and smooth transitions; I loved the mixing of reality and fiction with Laura Yandell's masterclass in madness as the embodiment of the literary heroines of the Bronte's novels, and there were some genuinely lovely moments between the sisters; not a single weak link on the stage. Chaz's hair was ably assisted by its owner as the lesser-known Branwell in an exhibition of belligerent drunkeness which was all the more impressive considering we all know that in real life when Chaz gets drunk he runs around like a puppy for a bit then falls asleep.
There is a worry with this sort of play that you need prior knowledge of the works referred to, but chatting to a wide cross-section of audience last night it's clear that even if all you know about the Brontes you learned from Kate Bush, you'll still be able to keep up.
This might not be everyone's cup of tea - I'm not sure it was mine - but it's really, really worth catching if you can get one of the remaining tickets. It has inspired me to dig out and re-read those old A-Level texts, so it must have done its job, after all!
Hazel Hindle The character portrayals were great, it really brought to life the difficult circumstances of the relationships within the family. Well done one and all.
Helen Jones Very strong performances last night from a uniformly excellent cast. Chaz's lightning costume/character/accent changes were remarkable!
Eileen Coan Really enjoyed this production which will spur me to go back to past-remembered joys of the books this summer. Excellent performances which brought the characters to life and made you care about them, despite sometimes some laboured writing (author, not cast!) I lked the interplay between scenes from the books and their life, although the play still doesn't explain how these sheltered young ladies could write such searing, sexy and raw emotional stuff not having either experienced it (?) or been allowed to see/hear about it in the culture of their times
Well done to the cast who had me rivetted. Should have passed on my congrats from Anita who had to dash off: to all, but wished me in particular to say well done to Fiona for one of the best performances we/ve ever seen you give.
Go see tomorrow night if you haven't! And hope it goes brilliantly for last night
Gallery
The below is a captioned selection. All are copyright Phil Gammon.
Reminiscences and Anecdotes
Members are encouraged to write about their experiences of working on or seeing this production. Please leave your name. Anonymous entries may be deleted.
See Also
References
<references/>
External Links