Timon of Athens (2013)
From sltarchive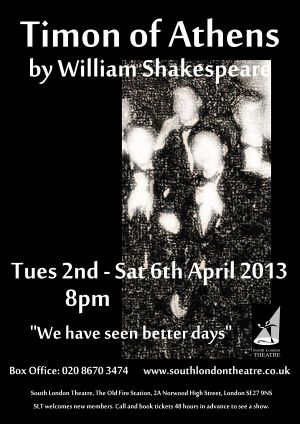 Performances: Tue 2nd – Sat 6th April 2013, Bell Theatre
Introduction
Timon is a rich young Athenian, incredibly generous with his wealth but undiscriminating and naive. Whenit is revealed to him that his money has all been spent he sends to those so-called friends to support him - but they all refuse.
Enraged by this behaviour, and now aware of the corrupting power of money and them evil it can cause men to do, Timon escapes to a wilderness, where he rejects all entreaties from those who visit him, and dies alone.
At the same time, Alcibiades, a businessman and friend of Timon who has been banished from Athens by the corrupt Senators who readily took his money when it was convenient, declares war on Athens and brings down its corrupt leaders.
Cast
Crew
Many thanks to:
The cast for their infinite amounts of patience; Dylan and the staff of Emmaus South Lambeth for the kind loan and delivery of the sofa; the Hope and Park public houses for the generous donation of rehearsal space; the SLT youth theatre facilitators; Sue and John Workman; Jeanette Hoile and the FoH volunteer team; Jess Osorio and the Box Office volunteers; Matthew Lyne and the bar volunteers.
Reviews
Some review quotes go here
Gallery
Reminiscences and Anecdotes
Members are encouraged to write about their experiences of working on or seeing this production. Please leave your name. Anonymous entries may be deleted.
See Also
Have there been other SLT productions of this play? Link to them here.
Or add anything that is related within this site. The author's page for instance or other plays with a similar theme.
References
<references/>
External Links