XLTee-Hee-Hee
From sltarchive
Sat 3rd November 2007, Bell Theatre
Introduction
Cast
Crew
Reviews
The whole line up was just excellent and I really hope they enjoyed it as much as we did.

– Paula Kelly (SLT discussion board)
...reduced the effect of the power cut to a slight inconvenience.

– Andrew Chadney (SLT discussion board)
Did anyone else notice the collective sigh of disappointment when the lights came back on?

Someone switched on the lights in the bar and damned near got lynched!

– Christopher Vian-Smith (SLT discussion board)
...several compliments on the lovely candlelit atmosphere in the bar.

– Naomi Liddle (SLT discussion board)
...can I have my torches back please.

– Jess Osorio (SLT discussion board)
Congrats and thanks to all involved in getting this event on its feet ... and keeping it upright despite the groping about in the dark. Had a completely marvelous time that was only enhanced by the candles, torches, dangling cords and slightly ruffled feathers all around.

Si, you and your crew are to be commended. I couldn't help but feel the acts were enjoying themselves as much as the audience (despite the absurd heckler) and that the headliner didn't regret having signed on to come.

I hope Social Comm is pondering 'accidental blackout' events on the upcoming calendar ...




– Jem Solak (SLT discussion board)
Gallery
Photo thumbnails go here with links to larger images.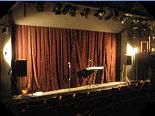 Reminiscences and Anecdotes
The show was performed during an electricity blackout with lots of candles, torches and a long extension lead into the church next door!
Members are encouraged to write about their experiences of working on or seeing this production. Please leave your name. Anonymous entries may be deleted.
See Also
References
<references/>
External Links