Twisted Tales for Twenty Twelve (2012)
From sltarchive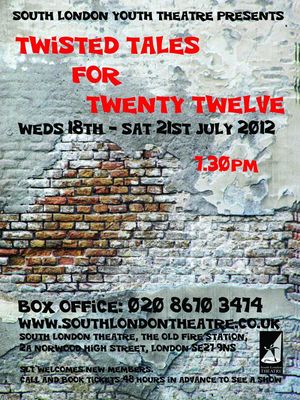 Directed by Liz Bate, Nina Cavaliero-Knox, Jetta Dorling, Juliet Holden, Dave Workman
Performances: Wed 18th – Sat 21st July 2012, Prompt Corner
Introduction
To celebrate London hosting the Olympics and the many cultures that will be sharing the city over the summer, the junior and intermediate youth groups will be presenting a number of stories from across the world with contemporary and exciting 'twists'. Be they myths, folk tales or based on real events, if you think you know these stories, be prepared to look again...
The Pied Piper
(based on The Pied Piper of Hamlyn)
Cast
Phoenix Allen, Callum Balme, Paul Bernard, Lola Bengoa, Sapphy Connor, Georgina Gadian, Tiziri Hadjmahfoud, Owen Jones, Ben Keogh-Burnett, Miley McGlue, Sonny Pickering, Lola Rafferty, Finley Robertson, Lara Louise Snowdon Turnbull, Nafisa Sundari, Simis Turary and Freddie Witchell.
The Three Tourists
(based on The Three Army Surgeons by the Brothers Grimm)
Cast
Freya Hewitt, Phoebe Warren, Skye Williams, Seamus Mayo, Greta Goodwin and Lola Brocklehurst-Curry
Sedna
(based on the Inuit myth of the Goddess of the Sea) Devised by the cast.
Cast
Katie Balme, Blake McKenzie, Helena Smagala, Hannah Street, Luke Suthren, Eleanor MacMillan, Ezra Odigie and Ruby Rogers.
Minding the House
(based on the Norwegian tale The Husband Who Was to Mind the House)
Cast
Louis Trevisick, Marla Luxton, Hannah Street, Amelia Rubra, Ashleigh Curry-Machado, Jamaal Johnson, Kate McAllister and Lola Brocklehurst-Curry.
Interval
The Spirit of SLT
Devised by the cast.
Cast
Ezra Odigie, Ruby Rogers, Eleanor MacMillan, Hannah Street, Katie Blame and Luke Suthren.
The Rock Star's New Album
(based on The Emperor's New Clothes by Hans Christian Andersen)
Cast
Tabby McLachlan, Hannah Street, Anya Nash, Oscar Patron Mowat, Cleo Sherwin, Rowan Suthren and Similda Turary.
The Wedding of Thor
(taken from the Norse Poetic Edda)
Cast
Ezra Odigie, Alhena Al-Ali Douglas, Lola Brocklehurst-Curry, Louie Chapman, Zai Keogh-Burnett, Harry McAllister, Maki Zinga and Eleanor MacMillan.
Crew
With special thanks to Siobhan Campbell and Jono Gadsby
The cast and crew would like to extend their thanks to the following people who have helped with this production:
Parents, family and friends of the cast for supporting their young people through the rehearsal process, Alan Buckman, the cast and crew of Rosencrantz and Guildenhstern are Dead and The Secret Lives of Henry and Alice, Jess Osorio and her box office team, Matthew Lyne and the bar staff and Jeanette Hoile and the front of house staff.
Reviews
Some review quotes go here
Gallery
Reminiscences and Anecdotes
Members are encouraged to write about their experiences of working on or seeing this production. Please leave your name. Anonymous entries may be deleted.
See Also
Have there been other SLT productions of this play? Link to them here.
Or add anything that is related within this site. The author's page for instance or other plays with a similar theme.
References
<references/>
External Links