Rosencrantz and Guildenstern Are Dead (2012)
From sltarchive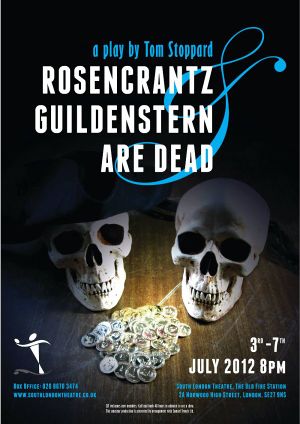 by Tom Stoppard
Performances: 8pm, Tue 3rd – Sat 7th of July 2012, Bell Theatre
Introduction
Text about the play
Cast
Crew
Thanks
Much and many thanks to The Hope pub. To the fantastic and diligent bar staff and Mr Barrota for keeping us watered. Mr Buckman for his patience, Naomi for hers... Alice for being a dab hand with a paint brush (see what I did there?). Pete Coombs for his 'connections'. Gerard for once again being a legend... And of course the cast and crew of White Devil and the Youth Group and their teachers.
Reviews
Some review quotes go here
Gallery
Reminiscences and Anecdotes
Members are encouraged to write about their experiences of working on or seeing this production. Please leave your name. Anonymous entries may be deleted.
See Also
Rosencrantz and Guildenstern are Dead (1979)
References
<references/>
External Links