Trainspotting (2010)
From sltarchive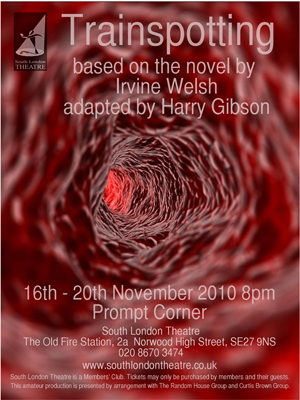 by Harry Gibson (adapted from the novel by Irvine Welsh)
Directed by Peter Stevens
Performances: Tue 20th – Sat 24th February 2010, Prompt Corner
Introduction
Mark Renton and friends welcome us to a visceral world of bedroom accidents, domestic violence and heroin addiction. This adaptation of Irvine Welsh's seminal novel pulls no punches.
Cast
Crew
With special thanks to Kevin Leech, Jess Osorio, Valerie Williams, Neil Carmichael, Puppet Planet, the cast and crew of The Thwarting of Baron Bolligrew and Burnt by the Sun.
Reviews
This is an amazing and adventurous play brilliantly directed and realised by Peter Stevens with the set designed by Mark Bullock. The play takes place on three sides and on multi levelled platforms, with the audience encouraged to encroach on the floor area to be a part of the set. I can't remember all the names of the cast- gulp sorry - but there are utterly believable and mesmerising.
You know that you are in for an uncomfortable ride with the subject matter anyway and the choice of promenade performance just sucks you in and makes it all the more powerful. The set is fantastically supported by excellent lighting choices and use of monitors pushes the point of dissociation that ( I assume) the fix gives you. It s unrelenting,graphic,the humour in bad taste but for all that makes you laugh. Trainspotting will not be for everyone and granted you may prefer to sit through your theatre but I urge you in the spirit of SLT 's pride in pushing the envelope occasionally-get up from your comfort cushion and suffer a little for this art.
Big congratulations to cast and crew for 'going on with the show' in the face of a rather enduring power cut. And all the people who rallied round to make sure that there was light.
I'm not crazy about being made to stand around in the theatre and certainly hadn't engaged with the play when I read it on the page. But this uncompromising production, with imaginative sound, lighting and film clips really drew me - and I think the rest of the audience - into its dark little world.
Which is something you need when faced with a bunch of pretty unsympathetic Edinburgh junkies drowning in squalor and a fair bit of self pity - though leavened throughout with humour (Helen's Moira Stewart impression on the TV …).
There are excellent performances from Tom Hancock as the lynchpin, Renton, a cast against type Steve Imrie as the profane psycho, Begbie and newcomers to SLT, Karl Gibbons and Holly McFarlane - both of whom were brave and completely undaunted by the demands of their parts.
I hope that a larger audience is able to see and feel what our smallish one (25-30 people) did) - and suspect that those sitting down may have missed a fair bit of the action. Perhaps a little more audibility - and more use of the rostra ranged around the walls - would have made the action more accessible. And I was unconvinced that the miming 'helpers' added much to the story - it felt a bit tacked on.
But overall, really worth seeing - and once again a production that shows how worthwhile it is to push the boundaries of content, taste and style.
excellent accents (though I know I tuned out once or twice when the accents and the unrecognised words got too much for me ...)
I had a brilliant night though (once the lights came back on!). I loved the way the play was staged - and the fact that, as the audience is pretty free-flowing, I was always able to get to a spot where I could see the action (initially a bit of a concern, given my height, or lack of it). Certainly last night the seats were empty most of the time, so you could sit on them as and when you needed a break from standing up. Excellent acting from all four leads (though I sometimes got confused about who they were at any given moment), though I could have done with a bit more volume in some places. They could sometimes have done with taking their own advice about talking slowly and loudly to us foreigners ... I can heartily recommend this production to all over-18s!
I was really impressed by last night's production and I for one liked the promenade format. Prompt felt much bigger than usual without all the seating, and it made a welcome change having the action going on around and among the audience. It made you feel like a voyeur witnessing the action at really close quarters while being invisible to the actors (no audience participation is called for!) How well it will work with larger numbers is hard to say.
The play is not itself a great work and I failed to understand some of the broader Scots. But that was more than compensated for by powerful performances from all the cast and especially Tom Hancock who brought a telling mix of recklessness, charm and vulnerability to his character. The set, sound, lighting and film sequences all support the action seamlessly. Congratulations to Peter and everyone who worked on it for creating such a challenging and original show.
Well done to all concerned. This was a truly memorable and innovative production. I loved being in the thick of the action and being so close to everything, although on a couple of occasions I felt just a little bit too close. The script is fairly unrelenting in its portrayal of Edinburgh's druggie community and some of the scenes were pretty unpleasant as were most of the characters but the whole thing made for pretty compulsive watching.
Really powerful stuff, very imaginatively staged and flawlessly acted, particularly by Tom. I was rivetted throughout and only aware of standing because I was so involved in moving to follow the action. I felt that the mimes really enhanced the theatricality of it all but they did get in the way a bit sometimes in the first act (or maybe I was getting in their way!)
A production that has repaid its selection for the season 100%.
I suspect that going tonight or tomorrow would be a good idea as your experience of it will be greater the fewer people there are in
Sterling job by all actors involved, such commitment and focus - a real pleasure to witness.
I was completely transfixed from beginning to end, even though at times it was hard to watch.
A brave and very different form of theatre at SLT that pushed boundaries, well done Peter et al.
This is one of the best productions I have seen at SLT. The performances are slick,strong and very brave - congratulations especially to Tom Hancock- Prompt space used ingeniously, fab set, sound and lighting. Promenade format works well, adds to atmosphere, no problem with visibility (little people just move forward!) You know the play is harsh and this production will have you chewing your nails! Really well done Peter and whole cast.
never has the cold industrial shabbiness of prompt fitted a play so well.
The very contrast-y lights and multi-media added further to it.
I came away from the show with the same buzz I used to get in the cinema when I saw Tarantino films for the first time.
They've aimed high with this production and not only have they hit their target, they've exceeded it.
The biggest compliment of all was the stunned silence of the audience as they came down at first for the interval.
If you like shows that pump you with adrenaline and leave you buzzing, go see this, I think you'll like it.
Totally agree! If you like your theatre thought provoking and immediate, this is spot on.
The silence coming down to the bar for the interval said a lot, huge amounts to digest.
Wonderful use of Prompt's space, the multimedia aspect really draws you in and despite my poor injured coccyx (!), the play whizzes by and immerses you, so you don't really notice you're standing for 2 hours.
Everyone involved should feel very proud, loved the design of the sound/monitors/music and lighting and all the cast do an amazing job with their characters (and accents!), really drawing you in to a stark piece of uncomfortable at times action- well done all for a piece that will stay with me for a very long time x
Steve's portrayal of the "Mum" was my favourite character too- truly shocking
Writing this in a hurry so apologies if it's a bit jumbled.
Went to see this last night with a certain amount of trepidation: - how on earth are they going to do a stage version of trainspotting? - what's this promenade thing about? - oh crap, I've got to stand up for 2 hours??
Was worth the trip.
The script is almost a series of story-telling sketches which made me glad I already had the context of having seen the film (be interested to hear what anyone who hadn't thought?) and, I imagine, is a difficult one to pull off but this lot did an amazing job.
I loved the voyeuristic feeling that we got from the promenade performance as the characters weaved, danced, ran, sobbed and, of course, shot up with heroin around us. I also really liked the way the pace rocketed along on a total buzz then crashed back down to earth mixed in with a bit of quiet contemplation and self realisation - I suppose reflecting coming up on a high then hitting the floor (sorry if I'm being a bit too wanky and interpretive there!). Great use of sound and video too.
One of the most imaginative productions I've seen at SLT. Because the play is so episodic and does not really have a narrative structure, I thought setting the scenes in different parts of the auditorium really added to the reckless, anarchic nature of the piece. Peters cast acted with absolute conviction as they veered from the most harrowing tragedy to pitch black humour; Tom Hancock's solo piece about the death and funeral of his brother was a real tour de force. The accents were convincing and consistent (if a bit too fast for me at times) and, in the absence of naturalistic scenery, the video monitors, sound design and primitive lighting evoked the necessary atmosphere of urban decay and desperation (as did the bloody freezing cold - was that deliberate!?). That we had to stand up for two hours didn't bother me as the show was so engrossing. They must have all worked really hard.
AND… I've never ever seen Steve Imrie in such a frighteningly menacing role before.*
Well done PeeTree & Co!
as Renton's Mum, that is :)
Wow, I've seen some good stuff at SLT this year, but this just takes all the prizes. A truly innovative production, that sets a new benchmark for Prompt, a thoroughly warm hand-shake to all involved but especially to Peter who had the vision (and quite frankly, the disallowed word) to see it through.
absolutely brilliant - congratulations to all involved for their commitment and hard work - well worth it
Congrats to all, Peter you must feel very proud.
No shooting up at the last night party, peeps!
<ref>http://www.sardinesmagazine.co.uk/reviews/review_content106.php</ref>
by Irvine Welsh
society: South London Theatre
performance: 16 Nov 2010 | Prompt Corner, South London Theatre, West Norwood
reviewed by: Paul Campion
In 1993, Irvine Welsh's tale of Scottish low-lifes and heroin addicts gave British cinema an almighty kick up the backside. It was dangerous, yet exhilarating – rather like heroin itself. Could SLT's theatrical adaptation have the same impact?
The evening didn't start well. We arrived on a bitterly cold night to find the building in the grip of a power cut. To make matters worse, when power was restored we trooped into a chilly auditorium with nowhere to sit apart from a handful of seats. Things didn't look too promising. How wrong we were.
Advance publicity billed this show as a 'promenade' performance; a rather polite term for a remarkable piece of theatre that thrust the audience headfirst into the squalid world of the junkie.
The acting didn't take place on a stage, it happened all around the audience as we stood in the space. The cast - including a team of extras who doubled as mime artists - mingled and moved freely among us, even barging past if we were in the way. The set - which occupied the entire space - surrounded us with smashed-up TV screens, discarded beer cans, filthy mattresses and walls splattered with blood (or worse) making it feel as if we had somehow strayed into a council estate drug den.
The effect was to make the audience nervous, unsettled and totally involved - a brave approach which in lesser hands might have backfired. But thanks to Peter Stevens' expert direction and his superb cast, it all seemed thrillingly – and often frighteningly – real.
As 'Begbie' Steven Imrie was every inch the intimidating and violent psychopath, right down to the tattoo on his neck. If we'd had a street to cross to avoid him, we would have. Holly McFarlane's 'Alison' went from drug-addled desperation to sassy swagger and showed expert comic timing in her improvised asides to the audience. As 'Tommy' Karl Gibbons put in a moving performance and also had the unenviable task of appearing stark naked – no mean feat on a winter's night in Norwood! And then there was Alan Brown's short but effective portrayal of a drunken down-and-out. I swear I could smell him.
With such quality on display it seems unfair to single anyone out, but special mention must go to Tom Hancock's 'Renton' who had us at once laughing and wincing at his tales of scatological bedroom 'accidents' and the difficulties of retrieving anal suppositories from the depths of a blocked public lavatory. All delivered – like the rest of the cast - in a perfect Leith accent.
Full marks too for the beautifully-timed (and specially-shot) sound and video sequences which lulled us into a drug-like stupor, only to jolt us brutally back to reality.
So thank you, SLT for one of the most memorable evenings I have ever spent in a theatre. You may have had a power cut, but this show was positively electric
Gallery
Reminiscences and Anecdotes
Members are encouraged to write about their experiences of working on or seeing this production. Please leave your name. Anonymous entries may be deleted.
See Also
Have there been other SLT productions of this play? Link to them here.
Or add anything that is related within this site. The author's page for instance or other plays with a similar theme.
References
<references/>
External Links