The Government Inspector (2015)
From sltarchive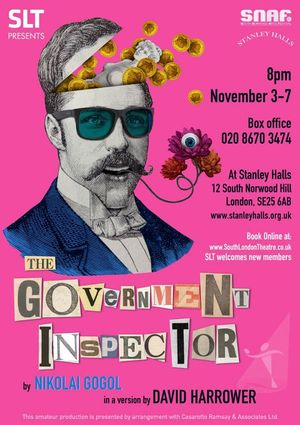 by Nikolai Gogol in a version by David Harrower
Performances: Tue 3rd – Sat 7th November 2015, Upper Hall, Stanley Halls
Introduction
The action takes place in a small town in Russia, beyond the back of beyond, in the 1800s. The geography & era have been manipulated for artistic purposes.
Cast
Crew
Reviews
Some review quotes go here
Gallery
Reminiscences and Anecdotes
Members are encouraged to write about their experiences of working on or seeing this production. Please leave your name. Anonymous entries may be deleted.
Chris Bennett: My first appearance on an SLT stage after a (partially) self imposed exile of nine years and it felt great to be back, especially as there were some old mates in the cast. This was the first production during SLT's temporary relocation to Stanley Halls and it was definitely a steep learning curve: the Sunday 'get in' being a particularly close run thing!
See Also
Have there been other SLT productions of this play? Link to them here.
Or add anything that is related within this site. The author's page for instance or other plays with a similar theme.
References
External Links