Scarborough (2016)
From sltarchive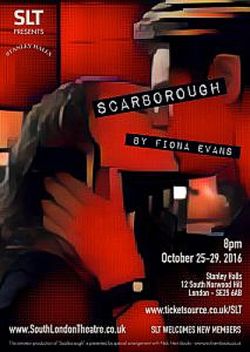 by Fiona Evans
Directed by Graham Rice & Steph Urquhart
Performances: Tue 25th – Sat 29th October 2016, Upper Hall, Stanley Halls
Introduction
In a faded hotel room in Scarborough, a couple is having an illicit weekend away. Amidst the peeling wallpaper, they laugh, quarrel and make love, but why is it that they don't dare go out..?
A play about love, secrets and coercion Fiona Evans' Scarborough is a naturalistic four-hander which challenges you to examine your attitudes to gender, power and alcopops. Scarborough has played at the Edinburgh Fringe, where it won a Fringe First award in 2007, and at the Royal Court in 2008. At first it was a one-act 2-hander but later the second act with male and female roles reversed, using exactly the same script, was added.
Cast
Crew
Thanks
'We are indebted to a great many people for their help, generosity and support in order to bring this show together: our fantastic cast: Tim & Maria from Emmaus; Ian from Maddisons; Chantelle Mitchelhill from The Globe pub; everyone at the Star of Kings; David Somner and his team at Stanley Halls; Caroline Doyle, our Theatre Rep and 11th hour helper; Tom Mathias, Naomi Liddle & James Whatley; Adam Crook; Heather Ward & The Director's Club; Kat Wooton; Louise Britchford and Fiona Thomas. Special thanks go to Bryon and Chaz for all their efforts, time and patience as well as SLT's tireless Front of House, Raffle and Box Office teams. Lastly, Viktor and his voluminous boot.'
Reviews
Some review quotes go here
Gallery
Reminiscences and Anecdotes
Members are encouraged to write about their experiences of working on or seeing this production. Please leave your name. Anonymous entries may be deleted.
See Also
Have there been other SLT productions of this play? Link to them here.
Or add anything that is related within this site. The author's page for instance or other plays with a similar theme.
References
External Links