Moonlight and Magnolias (2010)
From sltarchive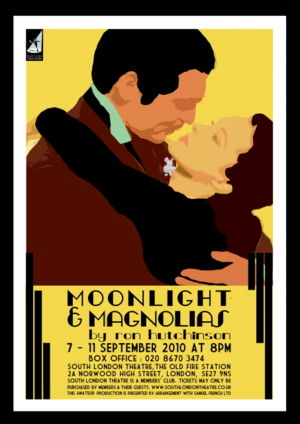 Directed by Mark Ireson
Performances: Tue 7th – Sat 11th September 2010, Bell Theatre
Introduction
Hollywood, 1939, and mogul David O. Selznick has just shut down production on the most eagerly anticipated movie in history, Gone With The Wind, scrapping the script and sacking the director for good measure. Determined to produce a rewrite in five days, he engages the reluctant services of ace script doctor Ben Hecht - possibly the only person in America who has not read the novel - and the movie's new director Victor Fleming, straight from the set of The Wizard Of Oz after squabbling with the Munchkins and coming to blows with Judy Garland.
With his reputation on the line, and nothing but peanuts and bananas to sustain them, Selznick locks the three collaborators in his office, and a marathon creative session begins…
Cast
Crew
Thanks
The Director and Cast would like to thank the following for their generous assistance with this production:
Shaz McGhee at the Tricycle Theatre for the banana skins
Ian Middleton at Maddison's for the sofa
Chris Briggs at Emmaus for the typewriter, chairs and other items
Christine Theophilus at John Lewis Partnership for the fan
Alan Buckman for a variety of props
Alleyn's School for rehearsal space
The casts and crews of The Seagull, and Cat On A Hot Tin Roof
All the volunteer staff in the Bar, Box Office & Front Of House teams.
Last minute technical assistance from Gavin Parker.
The Gala Performance was kindly supported by Pernod Ricard UK - our particular thanks to Vlastimil Spelda.
The characters
David O. Selznick Fanatically driven producer, son in law of the producer Louis B Mayer, the movies were in his blood. The son of a movie distributor who became bankrupt in the 1920s, Selznick rose to the top of the Hollywood tree working at RKO, Paramount and MGM before starting his own Selznick International Pictures. He was notorious for his frantic, benzedrine-fueled pace of work and the astonishing volume of memos he produced on every aspect of the productions (seen by some as meddling and by others as attention to detail).
Victor Fleming Started his working life as a motor mechanic, but got a break in the film business as a camera assistant, moving on to direct many action movies in the 1920s and 30s. With a robust manner and love of outdoor sports Fleming was known as a "man's director", but his two best known and most successful directing credits were The Wizard Of Oz and Gone With The Wind. Coincidentally, in both cases he was a substitute, brought in to replace the original director in the early weeks of shooting.
Ben Hecht A successful Chicago journalist, Hecht became one of the most celebrated and prolific screenwriters in the early days of film in Hollywood, as well as contributing uncredited work as a "script doctor" on many more [including Gone With The Wind]. As well as journalism and screenplays he wrote short stories, novels, plays [including The Front Page] and later ghost wrote Marilyn Monroe's autobiography. A lifelong activist for Jewish causes, his active support of the Zionist movement in Palestine led to a British boycott of his work in the late 1940s and 1950s.
Miss Poppenguhl Selznick's exceptionally efficient secretary. Usually tireless, by the end of the five days even she is more than a little dazed. In reality, Selznick employed two full time secretaries to keep up with his frantic pace of dictation.
Gallery
The full set of Phil's production photos can be seen in the M&Ms archive.
Reviews
From the SLT discussion board:
Occasionally you catch a glimpse of what we are really capable of at SLT and last night was one of those occasions.
Aside from all the organisation, catering and general looking good by SLT's brightest and best, there was the small matter of a show.
Moonlight and Magnolias is worth seeing for the performances alone; Barry inhabits the character of Ben Hecht with no little skill and sublety. If you want to see a convincing portrait of a man who's been without sleep longer than he should, Barry's Hecht is it. His performance as Selznick's Jewish concience and as Fleming's waspish critic is top notch.
Matt Platt is quite simply hilarious as director, Victor Fleming. His feeble, sleep-deprived attempt to peel a banana will live long in the memory. A huge range of emotions were on display here; anger, fear, desperation, Matt conveyed them all brilliantly, and to marvellous comic effect. He almost matches the great C G Doyle for his physicality here, and that's serious praise!
I don't have any superlatives left for Chaz. He is quite magnificent as David O Selznick; a man driven by the hunger for success and the fear of failure. We all know Chaz can do physical theatre as well as anybody but here he gives us so much more. In between the laughs, which he earns with almost effortless ease, he manages to convey the sheer dynamism of the kind of man Selznick must have been while at the same time demonstrating the vulnerability of someone desperate not to follow in his father's hapless footsteps and fail in front of his bombastic father-in-law. Stronger men than Hecht and Fleming would have been persuaded to do what they did by Chaz's Selznick.
I confess that when I heard that Mark had cast Caroline as Miss Poppenghul, my first thought was, 'what a waste'. Casting someone of Caroline's undoubted talents in such a small, dare I say, insignificant, role seemed like the ultimate misuse of a brilliant actress. I was wrong. We haven't seen enough of Caroline doing comedy. She wrung every comic ounce there was to be wrung out of Miss P without recourse to overplaying or downright scene-stealing. Her almost pathetic gratitude to Selzick for being given a few hours off was superbly conveyed and was funny even while simultaneously tugging at the heart strings.
On top of all this there was an excellent, well built and decorated set, with props that really worked, great use of lighting and sound and a mightily impressive quick scene change into the bargain.
Mark, you should be mighty proud of this one: we all should!
Matthew Lyne (review of gala night)

In 1939, David O. Selznick shut down production of 'Gone With The Wind'. Sacking the film's director and writers, he 'borrowed' screenwriter Ben Hecht from MGM, pulled director Victor Fleming off the filming of 'The Wizard of Oz' and locked them all in his office for five days with nothing to eat but bananas and peanuts to thrash out the final screenplay. Ron Hutchinson's 'Moonlight and Magnolias' is the story of those five days and this week, South London Theatre dazzlingly brought a little piece of Hollywood madness to West Norwood. Selznick was marvellously portrayed by Chaz Doyle, whose relentless megalomania epitomised the classic Hollywood movie mogul. Arrogant enough to re-write the bible ("In the beginning there was the deal!"), he reacts hysterically to Ben Hecht (played by Barry Heselden - another delightful performance) when he discovers that the writer hasn't even read the blockbuster! Enter Victor Fleming (Matt Platt), hard-nosed director of Oz. As he and Selznick perform the entire book for the sceptical writer's benefit, Matt's wonderful physicality produced the best visual gags of the show (his rendering of Scarlett O'Hara giving birth was uproariously funny!). The friction between the pragmatic Fleming and the urbane Hecht was nicely brought out, especially when the fatigue kicks in, the banana skins and peanut shells proliferate and tempers fray. The trio's experimenting on each other on how to portray Scarlet's slapping were a highlight, the whole episode degenerating into a brawl! Another was how the famous, final "I don't give a damn" line came about. And a special mention must go to Caroline Doyle as Selznick's robotic secretary, as she struggles to keep a grip on sanity; nicely providing a muted counterpoint to the male mayhem.
This was a thoroughly entertaining production and director Mark Ireson skilfully ensured all the gags hit home and the requisite frantic pace and energy was maintained throughout. Highly recommended!
Stevie Hughes - also at Sardines magazine

Missed the Gala night but caught the show last and must echo Matthew's praise.
It really was an example of what we can achieve when all the good elements of SLT come together. Acting that was top quality (and very funny indeed), a beautifully convincing set, an attention to detail in props and costumes that was a joy, and of course a director who had the job of putting the whole thing together.
Well done all. (I'm not forgetting the crew, by any means, but it was so slick you would almost think they weren't there!)
Helen Chadney

Anyone planning to come to Moonlight and Magnolias this week is certainly in for a treat. This will be an excellent Gala show to demonstrate the quality of SLT productions.
It opens with a wonderful set, simple but effective with beautiful muted painting by Hazel, and some of the furniture kindly lent by Emmaus through Chris Briggs who joined after being invited to last year's Gala show (or the one before?) and is part of a group who are becoming more and more involved with us.
The action is very fast and precise as one would expect from four of our best actors. Chaz plays the producer who married the bosses daughter – we suspect predominantly so he can make the movies that he really wants to. Barry plays the writer brought in to rescue the production of Gone with the Wind. He is used to working fast under pressure but never this fast. Matthew Platt is convincingly terrified of failing as a director and being relegated to the studio driver that he once was. The three of them together whirl around the stage like a hurricane for the whole play interrupted occasionally by Caroline as the secretary who is keeping the whole studio running in the background and who looks more and more harassed with every entrance.
My only criticism might be that there are few pauses or lulls for the audience to get their breath back but the curtain comes down pretty early so they can recover over a drink.
Oh - and there are some bananas
Carole Coyne (preview)

Five stars.
Funny, clever play, wonderful set with art deco bas reliefs by Hazel. And four tremendous performances with perhaps a special mention to Chaz for a technically brilliant, perfectly realised turn as the legendary David O. Selznick.
Mark, cast and crew are all top bananas.
Lisa Thomas

Top class show - fast, funny and frenetic. Wonderful performances from all the cast. The acting out of the book was expecially delectable - it has to be seen to be believed! And a great fight, beautifully choreographed and executed. And a five star set, beautifully designed and executed, with stylish deco murals coutesy of Hazel, and doors that slammed shut without making the flats wobble!
Michael Wilson

great set, good play Great God good fun!
Lily Ann Coleman

Can't tell you how much I enjoyed this. Superb and a credit to SLT by all concerned.
Jack King

What they all said. Thoroughly enjoyable night out. Well done to everyone involved. I shan't pick out any one in particular as it's the whole team that made it so good. Excellent. Thank you x
Fiona Daffern
From the Bromley Times (at page 23):
I've never read Margaret Mitchell's Gone With The Wind, but then neither had Ben Hecht when he was asked to perform a hasty rewrite to the Hollywood movie.
Ron Hutchinson's delightfully funny play Moonlight And Magnolias dramatises five frenzied days in 1939 when MGM producer David O. Selznick (the 'O' stands for nothing) holed himself up in his office with Ben Hecht and director Victor Fleming to bash out a revised screenplay of Ms Mitchell's bestselling novel.
The first screenplay by Sidney Howard was massively overlong, original director George Cukor was fired three weeks into production, and the studio was paying a fortune while studios and actors stood by idle. To say it was a fraught situation would be an understatement.
A convincingly realised production by Bromley's [sic] South London Theatre emphasised the blood, sweat and tears that must have gone into distilling margaret Mitchell's doorstop novel into a tight, 130-page screenplay - in just one working week.
Under the assured direction of Mark Ireson the play also emphasised the broad comedy inherent in the situation.
As the days pass, the men's natty suits become increasingly crumpled, their five o'clock shadows more pronounced, and a sea of banana skins and peanuts threatens to engulf them.
Bananas and peanuts? Selznick's idea of brain food apparently. Imagine the smell!
Charles Doyle was the brash young Hollywood mogul, and made a splendid job of the role. His passionate defence of the book may have been to please the mass audience - the ultimate arbiters of success or failure - but nonetheless here was a man who brooked no compromises.
Matthew Platt played director Victor Fleming, freshly pulled from The Wizard Of Oz and happy to change projects so long as he never saw another Munchkin again.
Big, macho and quick to anger, here was a man you could well believe had slapped Judy Garland round the chops.
As Ben Hecht, Barry Heselden was the wisecracking writer virtually chained to his Remington, tapping away in a comically delirious awake/asleep state as the other two acted out the scenes.
These silent movie style re-enactments were very well done, growing more wild and dangerous as the days progressed and culminating in a slapstick fight that was superbly choreographed by Anton Krause.
Caroline Doyle provided extra comic relief as long-suffering secretary Miss Poppenghul, while the authenticaly decorated office set was a real work of art. It seemed almost a crime to drape banana skins all over it.
Mark Campbell
Reminiscences and Anecdotes
Members are encouraged to write about their experiences of working on or seeing this production. Please leave your name. Anonymous entries may be deleted.

The Mayor of Lambeth came to the gala night on 9 September. Apparently this was the first time that he had ever seen something in a theatre, and in addition he let slip that he had no knowledge of Gone With The Wind, which may explain why he looks so shellshocked in the photos.
See Also
Have there been other SLT productions of this play? Link to them here.
Or add anything that is related within this site. The author's page for instance or other plays with a similar theme.
References
<references/>
External Links