The Seagull (2010)
From sltarchive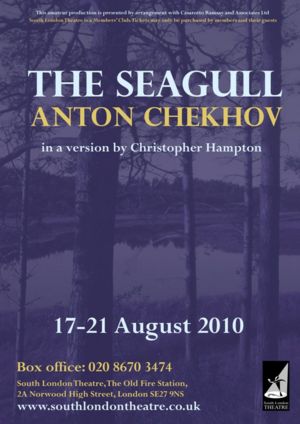 Directed by Dave Hollander
Performances: Tue 17th – Sat 21st August 2010, Prompt Corner
Introduction
Konstantin, a young playwright, has aspirations to create an exciting new type of drama, yet his efforts are constantly mocked by his overbearing mother (Mme Arkadina), a grande dame of the theatre. He mounts a disastrous production of his play, starring Nina, whose "talents" are immediately spotted by Arkadina - clearly she believes the young ingénue has star potential. Trigorin, an experienced older writer and friend of the family, offers advice, but this doesn't do much to quell Konstantin's frustration: his fate as the archetypal tortured writer seems sealed.
The Seagull is the first of Chekhov's major plays - and his first success with the Moscow Art Theatre under Stanislavsky's direction. Despite the Russian dramatist's reputation for heavy-going drama, the play sparkles with satirical humour as it asks questions about the nature of theatre and family ties.
Cast
Crew
Reviews
Gallery
Reminiscences and Anecdotes
Members are encouraged to write about their experiences of working on or seeing this production. Please leave your name. Anonymous entries may be deleted.
See Also
References
<references/>
External Links