Loveplay (2005)
From sltarchive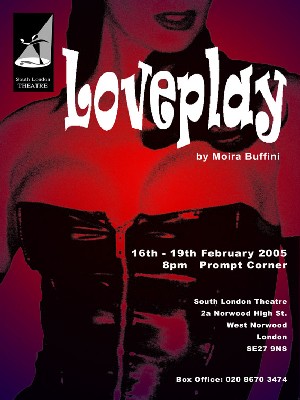 Directed by David Lomas
Performances: Wed 16th – Sat 19th February 2005, Prompt Corner
Introduction
Moira Buffini's "Loveplay" follows a tangled trail of seductions, transactions and encounters that take place in the same location in London from 79 AD to the present day. It is a funny but often desolate and unpredictable search for love across two millennia. The tone is mostly sharp, sassy and very entertaining, but there is also an undertow of darkness and sadness. Ten scenes in ten different historical eras depict couplings of many sorts - romantic and commercial, willing and forced, hetero- and gay, achieved and frustrated. Upon our tiny stage in Prompt Corner we will travel from Roman Britain to a Medieval convent, from scientific investigations of the C18th to a hilarious exploration of free love in the 1960's, from over-earnest attempts of the Renaissance to idealise love to the wild notions of the Romantic era.
Cast
(Listing taken from Backstage)
Crew
Special thanks to: Christopher Vian-Smith, Andrew Rickinson, Anton Krause, Beth Smith, Paul Hurley, The cast and crew of Fuente Ovejuna (2005), Lancasters, Edinburgh Graduate Theatre Group.
Reviews
Some review quotes go here
Gallery
Reminiscences and Anecdotes
Members are encouraged to write about their experiences of working on or seeing this production. Please leave your name. Anonymous entries may be deleted.
See Also
Have there been other SLT productions of this play? Link to them here.
Or add anything that is related within this site. The author's page for instance or other plays with a similar theme.
References
External Links