Fuente Ovejuna (2005)
From sltarchive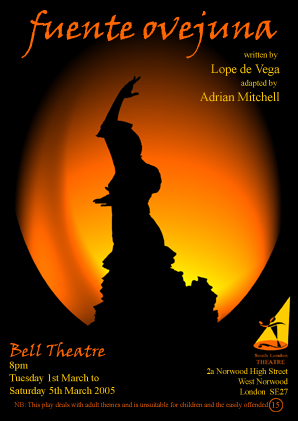 by Lope de Vega adapted by Adrian Mitchell
Directed by Maria Bates
Performances: Tue 1st – Sat 5th March 2005, Bell Theatre
Introduction
Fuente Ovejuna - ruthless, bloody, lusty, passionate, stirring, hot, sexy and thought provoking, it follows the personal stories of a town's civil disobedience against unjust rulers.
The story is told through the use of drama, dance, song and poetry. The commander, a womaniser, is attempting to seduce a village maiden. Her peasant lover risks his own life to threaten the commander allowing the maiden to escape. Enraged, the commander orders the peasant's murder and the beating of the girl's father, while he kidnaps the girl to inflict his revenge. When the young woman finally returns to the village, having been tortured and raped, she shames the women of the town into killing the commander. The townspeople of Fuente Ovejuna take vengeance on their tyrannical commander and the entire town becomes protagonist when everyone takes the blame for his murder.
Cast
Crew
Maria and cast and crew would like to extend their special thanks to the following people who have given their help, support, farming tools and leather trousers to this production:
Jess Osorio, Tikiri Hulugalle, Chris Vian-Smith, Helen Chadney, Mike Elliott, Peter Fortune, Max Whiteford, Mark Bullock, Mark Davies, Helen Jones and the cast and crew of Loveplay (2005), the management and staff at Lancasters and The Hob (Forest Hill), Brian Yansen, Brendan Murphy, Alan Buckman, Dee Fancett and Len, Sue and Doris Bates.
Reviews
Chilled to my bones and suffering from a severe backache I ventured into the snow-filled night towards West Norwood.
Fuente Ovejuna (the Sheep Well) is the most famous and frequently performed play by the creator of the Spanish classical theatre, Lope de Vega. Amazingly for the period it was written (1613) it celebrates the murder in 1776 of a nobleman, the Grand Commander of the Military Order of Calatrava, by the peasants he had oppressed, and their subsequent solidarity under torture.
So I thought I was in for a night of real darkness and despair, excellent news!
The curtains opened and I was suddenly smiling to a burst of energy that was like the Catalonian sun entering my chilled frail body. No siesta time for me this evening, this was promising to be a good night at the theatre! After the introduction of some fine Spanish dancing, at which I was trying to restrain clapping along to (hey I can enjoy myself sometimes!) Along comes some menacing tyrant figure called 'The Commander' and ruins everything. Mine and theirs!
Jack King who plays 'The Commander' seems irritated to the point of almost exploding every time he has to come into the town from his fortress to interact with the simple folk and their simple enjoyment of life, like they are some skin irritation that no amount of cream will soothe. I get the idea maybe this man thinks he deserves a more prestigious appointment in the city full of more civil and educated folk as himself. A relief for the villagers when he leaves, but the sun seems to be shining less strongly now. All is not lost though 'What's that noise..? Running water rising from a fountain, I sit back again and think of summer. Then a Spanish Guitarist plays and the village women start to sing. Heaven is not far off. All three elements complimenting each other perfectly to really give some authenticity to this Spanish village square. Particularly the pitch perfect tones (obviously had some training) of Rachel Watkins who showed again throughout what a versatile actor she is. Nick Mansely who plays the warm, loving and heroic Frondoso really gives a lesson to all us all on how to win someone's heart. And oh boy what a heart he has to win, Rebecca Grzesik who plays Laurencia (the unwilling object of the Commander's base attentions) is a real joy to watch. Free, assured and lively in the beginning, her transition to grief and rage is really heartfelt when she finally gets the villagers to stand-up for themselves, slight overtones I felt of the heroic female characters in Classic Greek Theatre such as Lysistrata, no bad thing.
Kudos must go at this point to the creative team for really creating the feel of Spain, the warm colours of day and night explored by Stuart Draper, gives a real sense of heat, violence and passion. The moon changing colours between the horizon of the beautiful Spanish hills exquisitely painted by the man of many talents Dave Hollander. The Inca Golds, browns and fiery reds of the villagers costumes, designed and made by Jenny Gammon, Paula Kelly and Maria Maunder really setting the tone of a social struggle against a terrible dictator. The music excellently executed on guitar by the previously mentioned Nick Mansley and wonderfully designed by Phil Gammon and Dave Hollander (this mans name always comes up a lot recently) and apparently several of the cast members wrote the lyrics for the songs which showed in the general on-stage unity that was always present. The chorography was tight and looked like the cast were having a lot of fun with it, I'm sure with a positive audience they will be clapping away to several of the pieces. There was an obvious directorial love of the script, which showed in the creativeness of the piece embellishing the play with original lyrics, poems, dance and a real sense of story-telling. Very much on the par with 20th Century Epic theatre. Normally people would expect a huge review of the set from a designer but all I'm prepared to say that it's simple, helps tells the story and the cyclorama is a canvas to behold.
Unfortunately though (only a small negative) I thought the story galloped through its exposition and resolution so quickly that I felt that the play had been cut along the way, I understand though that the cuts were very superficial. I wanted to know more about these people and especially what made the 'Commander' so full of hatred for these people. It wasn't just about power was it? Apparently a small library of de Vega plays has been lost over the centuries - pages of this script perhaps? Since the play is considered Epic style (Epic generally being nearly three hours most of the time.) Fuente Ovejuna with all its music and dance and poetry still only reigns in at about 90 minutes. A good night out for some but for me I wanted to see an hours more! Though surely that isn't such a bad thing to want to see more of one show?
This is fine example of ensemble theatre directed well. Something lately that we at SLT are getting better and better at. I can only think it's down to a fine mix of old and new members. The SLT future looks bright, bright as a Costa Brava sun. Now I'm off to drink some more red wine before I embark on seeing the show for a second time this evening.
Mark Bullock
Page Dedication
This page is dedicated to Ali Azaro who sadly passed away following a heart attack on Saturday 29th April 2006
Fuente Ovejuna was Ali's last stage performance at SLT. He was a real pleasure to work with and gave a lovely performance as Mengo in this production. He had been a member for quite a few years, taking roles in The Merchant of Venice and Kafka's Dick amongst others.
He is sadly missed.
Gallery
External Links