Kes (2013)
From sltarchive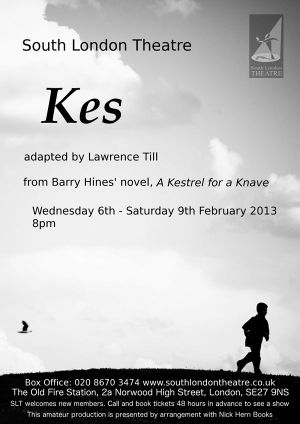 by Lawrence Till from Barry Hines' novel A Kestrel for a Knave
Directed by Juliet Holden, Peter Stevens & David Workman
Performances: Wed 6th – Sat 9th February 2013, Bell Theatre
Introduction
Billy Casper has only three weeks before he leaves school and, like his brother, will probably end up down the pit. But when he discovers a young kestrel chick and trains it up all by himself, his newly expanded horizons bring him into conflict with his friends and family. Will Billy be allowed to spread his wings?
No animals were hurt in the making of this play.
Cast
Billy Casper - Tony Dighero
Mrs Casper - Ellen Hill
Judd - Jack Allwright
Mr Gryce - Stanley Myers O'Molloy
Mrs Farthing - Lianne Abrahams
Mr Sugden - Jake Felts
MacDowall - Joe Jones
Delamore - Kitty Judge
Tibbutt - Blake McKenzie
Gibbs - Nina Glover Southworth
Messenger - Poppy Rubra
Smokers - Jake Passmore, Piper Jacobsen
School Pupils - Betty Mayo, Emilia Capitelli, Ezra Odigie, Freya Hewitt, Helena Smagala, Leah Girma, Louis Amos, Phoebe Warren, Skye Williams
Mrs Porter - Nina Glover Southworth
Customer in newsagent - Archie Mercer
Mrs Beal - Piper Jacobsen
Mrs Rose - Ava Hodgson Hann
Librarian - Evie Nuttgens
Mrs MacDowall - Katie Patrick
Youth Employment Officer - Louise O'Hara
Farmer - Matt Jerome
Milkman - Theseus Stefanatos
All other parts played by members the cast.
Crew
Thanks
The cast and crew would like to extend their thanks to the following people who have helped with this production:
Parents, family and friends of the cast for supporting their young people through the rehearsal process, Alan Buckman, Val Williams, Hazel Hindle, The Cast and Crew of Latin and Immaculate, Jess Osorio and her box office team, Matthew Lyne and the bar staff and Jeanette Hoile and the front of house staff.
Reviews
Some review quotes go here
Reminiscences and Anecdotes
Members are encouraged to write about their experiences of working on or seeing this production. Please leave your name. Anonymous entries may be deleted.
See Also
Have there been other SLT productions of this play? Link to them here.
Or add anything that is related within this site. The author's page for instance or other plays with a similar theme.
External Links