Immaculate (2013)
From sltarchive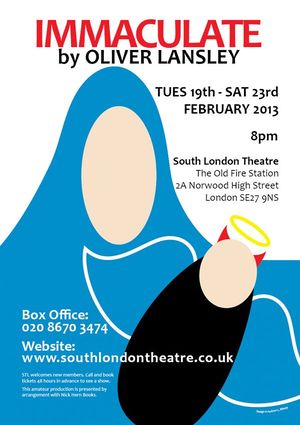 Performances: Tue 19th – Sat 23rd February 2013, Prompt Corner
Introduction
Mia is young, free and single and hasn't had sex for the last eleven and a half months. Then one morning she wakes up pregnant, and on her door step is the Angel Gabriel claiming parentage. In Oliver Lansley's "Immaculate", things quickly spiral into farcical confusion with no fewer than three more potential fathers claiming parentage, one of them an ex-boyfriend, one of them a nerdish contemporary from school who now thinks he is a stallion and the third being Satan himself.
Cast
Crew
Reviews
Some review quotes go here
Gallery
Reminiscences and Anecdotes
Members are encouraged to write about their experiences of working on or seeing this production. Please leave your name. Anonymous entries may be deleted.
See Also
Have there been other SLT productions of this play? Link to them here.
Or add anything that is related within this site. The author's page for instance or other plays with a similar theme.
References
<references/>
External Links