Jeeves and Wooster in Perfect Nonsense (2017)
From sltarchive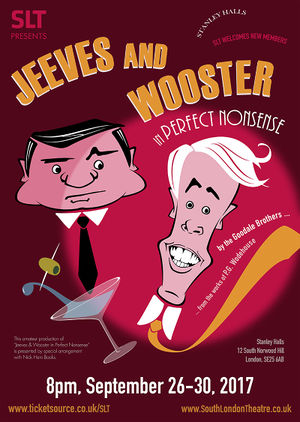 by The Goodale Brothers from the works of P G Wodehouse
Performances: Wed 27th* – Sat 30th September 2017 at 8pm; matinee Sat 30th September, Upper Hall, Stanley Halls
The Tuesday night performance had to be cancelled due to the indisposition of Mr Guy Jones (see below)
Introduction
The action takes place in Bertie Wooster's home in London, in and around Sir Watkyn Bassett's country house Totleigh Towers, and in Bertie's trusty two-seater en route to Totleigh.
Cast
The characters of Sir Watkyn Bassett, Gussie Fink-Nottle, Stiffy Byng and Madeline Bassett were played by Jeeves; Aunt Dahlia, the Antique Shop Proprietor, Roderick Spode, Butterfield and Constable Oates were played by Seppings.
Bartholomew played himself.
Crew
Thanks
Enormous debts of gratitude: This show has been a feat of engineering, love and sheer determination and many of SLT's finest have rallied round to make it happen. I am unendingly grateful to Chaz and his technical wizardry, my hardworking backstage team led by Mark, everyone who lent props and bits of costume, the hammer-wielding carpenters of SLT, Hazel, Carole and Lisa who took some daft ideas and ran with them, my tireless, fabulous cast, Bryon for publicity, Stanley Halls for housing us, front of house and box office for making sure people can actually get in to see us, and the myriad of people who I am sure will have helped out between this programme being printed and the show going up. I'll send Jeeves round with some bracers for you all in the morning!
Reviews
Some review quotes go here
Gallery
Reminiscences and Anecdotes
During run-up week, Guy Jones injured his ankle while carrying a chair downstairs. The injury was serious enough for the Tuesday night performance to be cancelled. On the same day, stage manager Mark Ireson was also injured and had to step down. Fortunately Tiffany Manning, who had originally agreed to stage manage but had to withdraw, had become available again and was able to step in almost at the very last minute. Barry Heselden also 'came to the aid of the party', actually at the very last minute and was able to complete our backstage quartet of unsung heroes (along with David Blatcher and Carole Ironside).
See Also
Have there been other SLT productions of this play? Link to them here.
Or add anything that is related within this site. The author's page for instance or other plays with a similar theme.
References
External Links