Cloud Nine (2006)
From sltarchive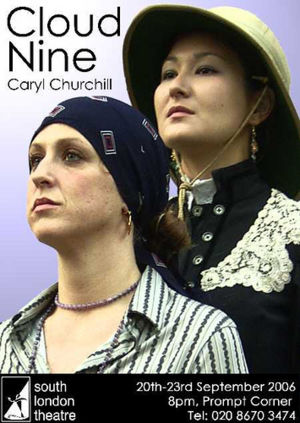 Directed by Dave Hollander
Performances: Wed 20th – Sat 23rd September 2006, Prompt Corner
Introduction
In 19th century colonial Africa, Clive and his family are flying the flag for the British Empire. At first glance, they represent the model of civilized society, ably assisted by their servant Joshua, a local man. However, it soon becomes clear that all is not well - Clive's wife and mother-in-law seem disquieted by their remoteness from British society; and his young son, Edward, is not the pillar of masculinity he might have hoped. The cracks in the family portrait really begin to show with the arrival of intrepid British explorer, Harry Bagley and the distraught Mrs Saunders, who has recently recovered from an attack by 'the natives'.
In Act 2, the setting has shifted to 1970s London, but the characters have matured by 25 years. Betty is having problems adjusting to modern urban life and longs for the heat of Africa. Meanwhile her daughter, Victoria, is unhappily married and seems to spend most of her time hanging out at the local playgroup with another young mother, Lin. Edward has found work as a gardener in the local park and is similarly dissatisfied with Gerry, his lover. How will resolution be achieved?
Caryl Churchill's classic play covers 'serious' themes: family values, sexuality, race and conflict. Nonetheless, Churchill deals with these topics with characteristic lightness of touch - their apparent heaviness is tempered by uproarious physical and verbal humour.
Cast
Act 1
Act 2
Crew
Reviews
"I had no idea what to expect as I'd run a mile every time I heard Churchill's name at University... It took me a few moments to adjust to the style of the piece but once I had accepted the gender swapping of certain actors I realised how it clever it was.
The young Edward, played by a very energetic Louisa Evans bounced around the stage, mischievous and wanting everything. The character does start to lose his innocence when the explorer Harry Bagley (Adrian Sutton)turns up, making the play darker than on first appearance.
The servant Joshua (Guy Jones), seemed to have his own agenda, being the perfect servant but at the same time having a deeper and much darker purpose. Always standing on the edge of a scene gave him a greater sense of power and control, as he witnesses this rather confused and dysfunctional family.
Simon Scholes who played Clive seemed born to play the role, a beefy man with a 'Cricket and Sandwiches' air about him. I had assumed that this was his range and perfectly typecast. I was of course wrong as he completely threw me off track in the 2nd half of the play with an amazing diverse range of characteristion - his skilful interchanging was fascinating to watch.
In Act 2, the setting has shifted to 1970s London, but the characters have matured by 25 years. Crystal Evans, performed both roles in a very understated yet interesting way; almost as if she was trying not to draw too much attention to herself (often almost seemingly not acting, which is a compliment) - her performance lends itself to an actor who knows it was originally a devised piece with actors.
Stephanie DePalma came into her own in the 2nd act, playing Lin, a gay woman who has a child from her violent marriage, in love with Victoria (Louisa Evans). Stephanie has a great voice for stage and her physicality and within these scenes was the highlight of the 2nd half. There are some brilliant monologues in the 2nd Act, the highlight being Gerry's speech played by Guy Jones about his experiences whilst out walking and a short but heartfelt Simon Scholes as Lin's cousin in Belfast, something that would have been even more poignant when the play was first written.
This play is dark, humorous and played with minimal fuss. The scenes could be tighter and some moments could be held on the bench in Act 2 longer, but these are small details. Dave Hollander should be commended highly for brilliant use of Prompt corner and for bringing us a interest and varied piece of theatre. It's just a shame I can't come again. (4 out of 5 stars)"
~ Mark Bullock<ref>SLT Discussion Board - 'CLOUD 9 - A Review'</ref>
.............................................................................................
"From the opening song it was clear that we were in for an ensemble piece. And something different. I love something different. And I loved this.
Within seconds we were thrown into a bizarre world of gins on the terrace, terribly eager to please wives, and menacing servants. It was all so over the top, so terribly unreal and yet so terribly British… We're then thrown into the seventies… and suddenly we get the same emotions, the same problems, but now dealt with by different people. Or the same people. Or their 20th century 'feel-a-likes'.
To pull off a piece like this you need a director who knows where they're going, a strong cast who're willing to go on the journey and a commitment from the whole company to lay themselves bare.
Mostly new members threw themselves with gusto into the piece and created one of the funniest and moving - and naked - pieces of theatre I have seen this year.
A few variations in pace might have spiced it up a little - it was played hell for leather and there were a couple of points where the cast could have paused for breath, reflection, and bathe in the moment they had created. But those are quibbles. I shall now whip myself with a doll."
~ Stuart Draper<ref>SLT Discussion Board - 'CLOUD 9 - A Review'</ref>
Gallery
Production photos by Mark Davies - click on thumbnails for larger images
Reminiscences and Anecdotes
Members are encouraged to write about their experiences of working on or seeing this production. Please leave your name. Anonymous entries may be deleted.
References
<references/>
External Links