Between Worlds (2005)
From sltarchive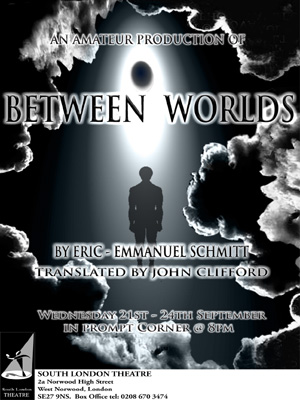 Directed by Mark Bullock, Assistant Director - Angela Barnes
Performances: Wed 21st to Sat 24th September 2005, Prompt Corner
Introduction
Between Worlds: "How on earth did I get here? When will I be able to leave? Where will I go?"
Every guest who gets to the Two Worlds Hotel asks the same questions. But nobody knows the answers. In this strange place, anything is possible, even miracles - the lame walk again and liars tell the truth. The enigmatic Doctor S. looks after the guests during their stay, but his silence only increases their fears. Eric-Emmanuel Schmitt's new play is a metaphysical suspense drama between dream and reality, life and death, comedy and tragedy. Schmitt's play is another desperate quest as well as a variation on the notion of Meaning. In the end, Mystery remains the sole reason for hope.
The guests are Colin, a man who has been drinking too much and has crashed his car into a tree. The Chairman who is a self-important businessman perpetually preoccupied with the belief that the only way he'll be able to leave is to organise a meeting with the doctor and to explain how well connected he is. The Magus, a fortune teller who has a detached, sardonic view of the others but with an underlying warmth and affection. Jessie a cleaning lady whose life on earth has never been comfortable, and who is amazed to find herself so well cared for. Laura, a paraplegic girl who in the real world is confined to a bed or a wheelchair and unable to do anything for herself but in the hotel has a normal healthy body.
Cast
Crew
Special thanks to: the cast and crew of After Juliet (2005), Bernie Bullbrook, Peter Fortune, Stuart Draper, Simon Holland, Dracula Spectacula (2005) cast and crew, Mike Elliott, Helen Chadney, Helen Brown, Dee Fancett, Jack King, Jenny Gammon, Carole Coyne.
Reviews
Some review quotes go here
Gallery
Reminiscences and Anecdotes
Members are encouraged to write about their experiences of working on or seeing this production. Please leave your name. Anonymous entries may be deleted.
See Also
Following a well-received run in Prompt Corner, the production later transferred to the Union Theatre.
References
External Links