Throwing Stones (2005)
From sltarchive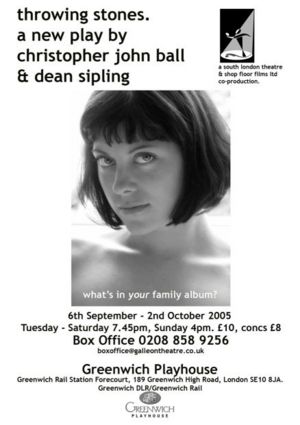 by Christopher John Ball and Dean Sipling
Directed by Anton Krause
Performances:
Wed 20th – Sat 23rd February 2005, Prompt Corner
Tue 6th September – Sat 2nd October 2005, Greenwich Playhouse
Introduction
Adam is a professional photographer whose life is turned on its head when portraits of children that he has taken are found to have been distributed by an Internet paedophile ring. He claims that the images are not those he originally took and that they have been digitally 'sexualised' but can we believe him? Gradually the people he trusts begin to turn away from him as the investigation deepens and police and press become involved.
This play was sent to us un-solicited and was inherited by the new Prompt Corner team last year. We all read it and decided it was too exciting a prospect to let go and I discarded the play I was planning to submit in its favour. Chris and Dean the authors are keen to be involved in the production and have already written a new draft in response to some of the feedback that we gave them.
I am extremely excited to be involved in the world premiere of this piece of exciting new writing and would encourage anyone interested in challenging and thought-provoking modern drama to come and see the show.
Director's Notes <ref>Director's Notes - SLT Website</ref>
Cast
Prompt Corner
Greenwich Playhouse
Reviews (Greenwich version)
Anton Krause's direction is impeccable; Helen Chadney, Christopher Vian-Smith and Geraldine Garner generate performances which are outstanding while Laura Murphy exudes sex from every pore.
Roy Atterbury – Bexley Times<ref>Bexley Times</ref>
Mid-life male photographer meets young, nubile female student-cum-artistic muse - so far it's old hat. But photographer turned playwright Christopher John Ball and co-writer Dean Sipling, whose background is film and television, bring the pairing into a thoroughly contemporary world of intercepted emails, sinister insinuation and sharp retorts. Their 'guilty until proved innocent' plot does not achieve the menace of Kafka, but it is thoroughly watchable and believable - perhaps as a result of Ball's professional insights and DS Dom Lucas' services as police advisor to the production.
Barbara Lewis – The Stage<ref>The Stage</ref>
Gallery
Reminiscences and Anecdotes
Members are encouraged to write about their experiences of working on or seeing this production. Please leave your name. Anonymous entries may be deleted.
See Also
Have there been other SLT productions of this play? Link to them here.
Or add anything that is related within this site. The author's page for instance or other plays with a similar theme.
References
<references/>
External Links