Christopher John Ball
From sltarchive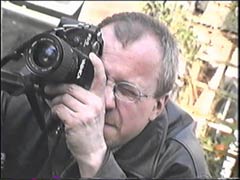 Introduction
Christopher John Ball is a widely exhibited and published, award winning, London based, fine arts photographer, playwright and lecturer. Chris studied at the famous University of Derby, under the guidance of world renowned fine art photographers John Blakemore, Richard Sadler and Olivier Richon. Here he gained a BA ( Hon's ), in Photographic Studies. He was later awarded an MA, in Cultural Studies, from Thames Valley University.
Christopher has almost 30 years experience as a photographer - his work being held within public and private collections worldwide.
In addition to his teaching and photographic work; Chris also works in film and theatre. Throwing Stones was co-written by Christopher John Ball and Dean Sipling. It was first performed at The South London Theatre in July 2005. There followed a successful month long run at The Greenwich Playhouse in September 2005. It is set to be staged again in 2007.
www.cjballphotography.org.uk <ref>Christopher John Ball's Website</ref>
SLT Productions
See Also
References
<references/>
External Links