The Dust Collectors (2006)
From sltarchive
by Simon Holland and Tom Curtis
Directed by Angela Barnes and Simon Holland
Performances: Tue 5th – Sat 9th September 2006, Bell Theatre
Introduction
Cmdr Lestor J. Banks (Volunteer status, Grade IV (Long-Haul)) is happy in his work, investigating comets and comet-like bodies inside the north-east quadrant of the Oort Cloud. Ten serene years devoid of human contact have passed, when he is unexpectedly summoned to Earth. No explanations, no nothing. Cmdr Banks returns to Apollo Island, an uncharted speck in the Pacific Ocean, to find that things are not the way he left them at the Agency. There is a new Administrator, new personnel, new procedures. He also discovers a personal life he never knew he had. The only way out is the next assignment, and so a tentative wait begins while his life is deconstructed, atom by atom, with more than a few unwelcome surprises uncovered along the way.
Cast
Employees
Agency personnel
Staff support network
Technicians
Crew

The cast and crew would like to thank....Rajiv Arora (for guitars on 'Quarantine'), Alan Buckman, Andrew Burke (at St Luke's), Rosie Clements, Carole Coyne, Mike Elliott, Louisa Evans and family, Peter Fortune, Matthew Griffiths, Simon Gurrier, Dave Hollander and the cast and crew of Cloud Nine, Ruth Huggett, Amy McSimpson, Christian Murphy, Becky Whiley (thank you for putting up with this over the last couple of years), Christopher Vian-Smith and Anna York. NEVER TRUST IN DUST.
Reviews
Some review quotes go here
Gallery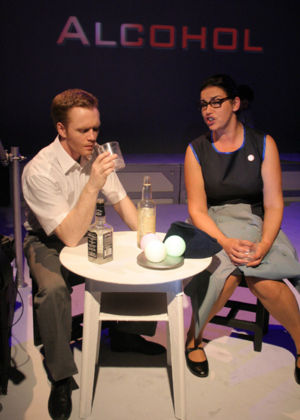 Reminiscences and Anecdotes
Members are encouraged to write about their experiences of working on or seeing this production. Please leave your name. Anonymous entries may be deleted.
See Also
Have there been other SLT productions of this play? Link to them here.
Or add anything that is related within this site. The author's page for instance or other plays with a similar theme.
References
External Links