The Dice House (2008)
From sltarchive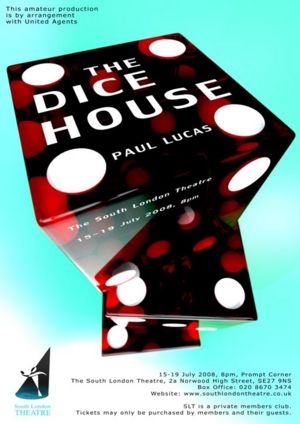 by Paul Lucas
Directed by Naomi Liddle
Performances: Tue 15th – Sat 19th July 2008, Prompt Corner
Introduction
Do you look for a change? Would you love to be someone different? Do you dream of exploring every aspect of your personality?
In maverick psychiatrist Dr Ratner's commune, you can do just that! Here patients surrender all their decisions to the roll of the dice. When Dr Drabble, a rival psychiatrist, hurls one of his own patients into the clinic to kidnap an inmate – his wife – a fast paced comic romp ensues, taking in love, paranoia, dismemberment, murder ... and chocolate éclairs.
This irreverent black comedy is inspired by Luke Rhinehart's cult book The Dice Man and gives a glorious glimpse of how insane life could be if determined by the dice – and how ordinary it can be if it isn't.
Cast
Crew
Reviews
I was lucky enough to catch a glimpse preview of 'Dice House' before it's opening night tomorrow and thought it to be a truly captivating, hysterically funny and bizarre piece of theatre. The direction was clearly thought out and intelligent, so top marks to Naomi and her AD Caroline for doing such amazing wonders. Every single member of the cast was fantastic and clear in detail. Starting with Mr. Jack King, who indeed showed true passion throughout and with a speaking voice to die for. I was completely engrossed by him whenever he opened his mouth to speak. A true artist. Chris Vian-Smith, was very funny, a smart arse who you'd want to smack (the character I mean) and gave a strong natural performance. Newcommer Stephen East gave an incredibly heart felt and strong performance as Matthew, there were moments where I just wanted to run up and hug him... awww. Great stage presence and lovely. Same for the slightly dreamy yet sometimes stubborn character of Lisa, played by Ashara Emery. A lovely floaty performance. As usual, gold stars go to Alan Buckman who made me feel happy everytime he came onto the stage. Alan had great energy and truly made me smile. Fiona Daffern was incredibly sexy in her role and was very watchable throughout. A brilliant use of characterisation. As for Edward Cartwright, a great comedy role with a dark undertone, unfortunately strapped in tightly to this costume but the part was played well and very, very different to the Ed we all know and love. The assassin shall not be named but was fantastic in every way and what a stage presence! Wow! The actor triumphs again. So, all in all, an amazing show that deserves a full house, many laughs and if you haven't bought your tickets yet, you should be locked up! A true must see for everyone that'll have your sides aching. A special well done to everyone including the multitalented Michelle Thomson, Declan Doyle, Chaz Doyle and David Hollander as well as the cast and director dream team!
Gallery
Reminiscences and Anecdotes
Members are encouraged to write about their experiences of working on or seeing this production. Please leave your name. Anonymous entries may be deleted.
"I refuse to be upstaged by a gagged Daffern in a wheelchair" - Jack King
See Also
References
External Links