Nightmares and Nightingales (2009)
From sltarchive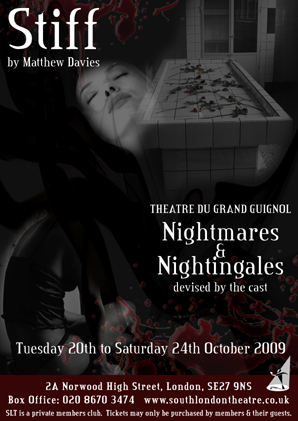 A devised piece directed by Maria Bates
Performances: Tuesday 20th to Saturday 24th October 2009, Prompt Corner
Performed as second half of a double bill with Stiff
Introduction
Synopsis
Victorian London, October 1891. A woman swings from the gallows punished for a grisly crime. Does she really deserve to be there or is she just another victim?
In a city of body snatchers, burlesque and blood only the strongest will survive…
This is a dark-themed play, unsuitable for children and the faint-hearted.
Théâtre du Grand Guignol
So what is Grand Guignol?
As used today, the term 'Grand Guignol' refers to any dramatic entertainment that deals with macabre subject matter and features graphic scenes of horror. It is derived from Le Théâtre du Grand Guignol, the Parisian theatre that horrified audiences for over sixty years.
The theatre was founded in 1897 by Oscar Metenier as an extension of the naturalist movement, which had been popularised by André Antoine's Théâtre Libre. A typical evening at the Grand Guignol Theatre might consist of five or six short plays, ranging from crime dramas to bawdy farces but the staple of the Grand Guignol repertoire was the horror play, which inevitably featured eye-gouging, throat-slashing, acid-throwing, or some other equally grisly climax. Over the years, and under the direction of several different managers, the Grand Guignol theatre flourished, becoming one of the most popular tourist attractions in Paris.
Despite the fact that the Grand Guignol has fallen into relative obscurity, it has had a profound influence on the art of horror performance and special effects in theatre ever since.
Cast
Crew
Reviews
Some review quotes go here
Gallery
http://www.photos.sltarchive.co.uk/thumbnails.php?album=67
Reminiscences and Anecdotes
Members are encouraged to write about their experiences of working on or seeing this production. Please leave your name. Anonymous entries may be deleted.
References
<references/>