My Night With Reg (2005)
From sltarchive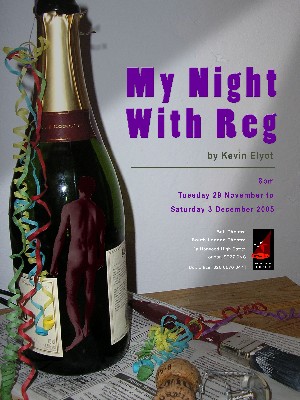 by Kevin Elyot
Directed by Helen Chadney
Performances: Tue 29th November – Sat 3rd December 2005, Bell Theatre
Introduction
Kevin Elyot's Olivier Award-winning comic drama is the story of a group of gay friends living in London whose lives revolve one way or another around the unseen title character, the lover of one of them who seems to have had more than one night with more than just one person. It is a poignant, beautifully written play constructed around three ensemble scenes which take place over the course of about four years in a single apartment. It is warm and funny, but also completely believable, with characters who are more than just stereotypes and emotional themes which are more than just skin-deep.
At a flatwarming party for Guy, an eternal single, he says that it is not a case of him having given up on a sex life, it's more a case of a sex life having given up on him. In the face of the mounting AIDS crisis, Guy has more or less sworn off casual sex, but as the play opens he is renewing his acquaintance with John, a friend since college but never a lover. Guy holds an obvious torch for John who remains completely oblivious. John has in fact just fallen in love for the first time, setting off a chain reaction of deception and betrayal, involving mutual college friend Daniel, which bubbles under the surface of the narrative right to the touching finale.
Later thrown into the mix are Benny and Bernie, a couple with some startling revelations of their own to make, and handyman Eric, a young man who seems to appreciate Guy's warmth and sensitivity, but doesn't wish to take things any further.
Cast
Crew
With grateful thanks to: Diana Chadney, Jenny Gammon, Bob Callender, Emma & Barbara Howcutt, Christopher John Ball, Mark Bullock, the cast and crew of Checkov Meets Friel.
Reviews
Rushing in as the Bell doors were closing from what was a bitter night outside I wondered what lay in store for this eagerly awaited production...
I had first come across this play at University and in those days a lot of the plays we read in seminars were at 10am after a night out, so unfortunately at the time this was one of the ones that I had skimmed over at 4am just before going to bed. At the time it didn't really catch my attention. I wish it had now.
Kevin Elyot has won so many awards for this play and deservedly so. It really plays at so many different emotions as we journey through the lives of these characters. The play is about a group of gay friends living in London whose lives revolve around the title character Reg. Though not everyone in the play has had just 'a night' with the aforementioned Reg.
The first thing that stuck me after watching the play was how simply written it was but within this simple natural dialogue how many levels of complexity each of the characters had. All of the actors seemingly fell into their roles on stage complimenting each other in a way I've rarely seen on stage. You really thought that these guys had known each other for many years.
The play starts with Guy played by Simon Gleisner, the nicest but most tragic of the characters. His sex life seems to have deserted him accept for a random encounter whilst in the Canary Islands (which adds weight to the events that unfold in the 3rd Act). John arrives played by Jason Lord and the story really starts to get-going. Guy we discover is madly in love with John and has been since first seeing him in the cafeteria lunch queue at Uni. Daniel played by Jack King who is Reg's partner arrives in flamboyant fashion across the stage and you just can't help laughing at the deliberateness of his camp portrayal, though this only serves as a brilliant character mask to the real Daniel beneath.
As we enter the 2nd half we are introduced to what can only be described as the Odd Couple. Bernie played by Richard Watkins and Bennie played by Matthew Lyne. The deadpan comic interplay between these two is often bordering on magical. I was in tears when they are arguing over the design of the conservatory. Matthew Lyne having more expletives than a Tarantino Hitman. Each character has their own revelations that come to the boil as the story develops. Eric played by Chris Learmonth who at the start of the play is the cute handyman that the older men admire has the biggest shocker. Though I had guessed it, it's still a brilliant way to make the circle complete.
I would normally single out actors or even their characters in a review but this company of already proven performers have gone beyond what I thought we could reach at SLT (maybe a few plaudits then). They storytelling and balance that is found in the humor and tragedy is nigh on perfect. Simon Gleisner almost had me (yes me) crying towards the end of Act 2 when Eric is drunk on the sofa. So painfully tragic and heartfelt. Jack King who was born to play Daniel displaying so much control in when we should see the real Daniel and when we should see the extrovert. Jason Lord seemingly emotionless and when pushed letting go. This is the best thing I've seen Jason Lord in. A truly powerful performance of a man that has never really had to fight for anything or to want for anything until experiencing the tragedy of lost love. Matthew Lyne & Richard Watkins truly believable 'too long to break-up' relationship is a joy to listen and watch. Chris Learmonth (Eric) remains for a lot of the play as the outsider occasionally interacting with the other characters until he is asked to stay for a drink and then we see the depth of who he is. When he is talking about his first love on the sofa with his eyes closed is brilliant conceived and excellently delivered.
The set designed by Alan Buckman is wonderfully realised. The conservatory complimented with Mike Elliott's simple and effective lighting design gives a real sense of the changing seasons. The meticulous detail added to every corner of the room makes the look and feel of the play complete. Never detracting from the action onstage but always omnipresent.
The direction is unnoticeable. The status of each of the characters is always at the right pitch. Which makes the idea that these people have known each other almost twenty years so much more believable. The subplots are always developing even when there is nothing to say and it's the first play I've seen at SLT where I'm still wondering what the characters are doing when they have left the stage. Because I was made to care about these people and their lives. I myself have known some of the same friends now since I was a child (almost thirty years) and there are so many secrets and concealed truths amongst us within our little group. There's nothing better in the world as friends.
In conclusion this is one of the strongest productions I've seen at SLT. I'm not making that up. Some will find a 3rd Act is excessive. But it serves as part of the circle of the whole play. If you're in need of some warming up and getting the emotions stirring again pop along this week to what will be a genuinely moving and humorous experience.
Mark Bullock
---

'We're doing such good shows at the moment. What's going on?' commented one audience member as she negotiated the stairs down to the bar, post-Reg. She's not wrong. We've put on some cracking shows at SLT in the past few months. My Night With Reg was the icing on the cake.
Put simply, My Night With Reg was one of the best pieces I have ever seen at SLT. It represented that wonderful moment when everything comes together: lights, set, sound, acting, and direction. You'd have been forgiven for thinking you were watching a professional production. A cracking cast, sensitively handled by Helen Chadney. A lovely set by Alan Buckman, some clever lighting by Mike Elliott and a moving score provided by Chris Vian-Smith.

The story is simple, but the simplicity of the plot hides a myriad of secrets and relationships that weave a spellbinding narrative that constantly suprises. Guy, played by Simon Gleisner, has been holding a torch for university colleague John, expertly carried off by relative newcomer Jason Lord. The first part of the play, Guy's flatwarming, introduces us to Daniel (Jack King) and the innocent decorator, Eric (played by Chris Learmonth). We quickly pick up on Guy's infatution with John, while John remains oblivious until the play's final revelations. As the play progresses we meet Bernie and Bennie, the 'odd couple' lovingly portrated by Matthew Lyne and Richard Watkins - and it becomes clear that everyone has slept with the eponymous Reg who we never meet, but grow to both love and hate as the piece unwinds. Reg is a slut, and the piece was set at the height of the AIDS crisis. We get the feeling that some of the characters will not be around by the end of the play. Unfortunately we are not wrong.
Jack King's Daniel was a masterstudy in understated camp. Elyot has created the modern clown - a surface vitriol that masks the tears and fears of a vulnerable human being. It's a wonderful part for an actor. King's switch from drag-queen wit to grieving widower was sublime, providing much of the pathos in the piece.
Bernie and Bennie were affectionately drawn and portrayed by Watkins and Lyne, Lyne once again demonstrating his talent for understated humour, and Watkins delivering a suitably awkward performance as the nagging but loving partner. I loved their interplay, and despite their chalk and cheese nature we totally believed that they had been together for so long.
Chris Learmonth's Eric was one of my favourite characterisations in the play and goes to prove the point that there are no small parts - although he rarely spoke in the first half, he was constantly present and boy did we notice him. Very often at SLT a director makes the fatal mistake of thinking that it is the people who have lines who are the important focus in a scene. Time and time again in Reg we saw Chadney's ability to focus an audience's attention on the characters that matter. Very often it is the character's reaction that is the important element in a scene - not what the other character is saying. Learmonth's lingering by the bookcase as John and Bennie get it on was worthy of a BAFTA and proof that Learmonth has a long career ahead of him at SLT. Having never acted before he joined, Learmonth has grown as an actor and it is surely not long before he takes a proper lead role.
Simon Gleisner is an accomplished actor and one of the many SLT players who originally trained for a career on the stage. More used to flamboyant parts in Shakespeare and farce, Gleisner nevertheless demonstrated his ability to take on the more sensitive roles. At first his characterisation annoyed me - when the curtains opened we were offended by an Ayckbourn-like barrage of mannersims and mugging. I am reliably informed by insiders that he wasn't like that for the rest of the week, but one got the impression that he was very much playing it for laughs on the last night. It's a difficult thing for an actor to resist - especially in such a short run. Nevertheless, by the second half he was settling into his character and the speech he delivered about his first meeting with John was pithily and beautifully delivered, culminating with a nice understated tag, 'I put custard on my quiche.' Perhaps if he had reigned back the performance a little it would have enabled the audience to sympathise even more with his character. Or perhaps I'm just being picky.
One of the greatest revelations of the night came in the form of Jason Lord's portrayal of John. I've seen Lord act a few times at SLT and he has always been strong. But this part was made for him, and he took to it with such aplomb that at times you were breathless by the characterisation. His 'reacting' was a perfect study in audience focus - he did so little but said so much in his eyes and simple body language. Perhaps a couple of his revelatory speeches were a little heavy-handed and could have been given less. But perhaps I'm just being picky again. It worked and it's a small criticism.
Rarely at SLT do you get so drawn into a piece that you forget you are sitting in West Norwood. I can think of plenty of occassions where I've seen act one of a play at SLT and wished I could spend act two in the bar. But rarely at SLT do you leave the theatre at the end of the piece wishing that that represented only the first half of the play - and that you could come back tomorrow to find out what happened to the characters you had grown to love so much in the course of the previous two hours. Can someone email Kevin Elyot and ask for a sequal? And while they're at it, can they stipulate that Helen Chadney should direct it?
Stuart Draper
Gallery
Reminiscences and Anecdotes
Members are encouraged to write about their experiences of working on or seeing this production. Please leave your name. Anonymous entries may be deleted.
See Also
Forty Winks (2018) by Kevin Elyot
References
External Links