Medea (2003)
From sltarchive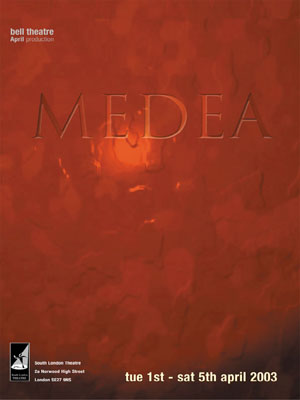 by Euripides
Directed by Matt Bartlett, Co-directed by Elinor Morgan-Jones
Performances: Tue 1st – Sat 5th February 2003, Bell Theatre
Introduction
Medea tells an ancient and horrific tale with startling immediacy. As the play opens we are instantly pitched into the midst of a family in crisis. To her mistress's screams of anguish offstage, Medea's nurse quickly fills in the story's background. Jason, hero of the Argonauts and the quest for the golden fleece, has abandoned Medea and their two sons and plans to marry the daughter of Creon, King of Corinth, where the family have taken refuge. From this dramatic opening unfolds a story of assured clarity and emotional complexity that make it astonishingly modern. As the women of Corinth plead with Medea for calm she finds herself increasingly isolated as both Creon and Jason savagely banish her from Corinth. Fortunately, she manages to persuade Aegeus, King of Athens, to give her sanctuary. Before leaving, however, she plans a brutal revenge on the man who has destroyed her happiness. She uses witchcraft to slaughter Creon and his daughter in an horrific fashion before murdering her own sons to ensure Jason's misery is total.
Cast
Crew
Reviews
Some review quotes go here
Gallery
Reminiscences and Anecdotes
Members are encouraged to write about their experiences of working on or seeing this production. Please leave your name. Anonymous entries may be deleted.
See Also
References
<references/>
External Links