King Lear (2008)
From sltarchive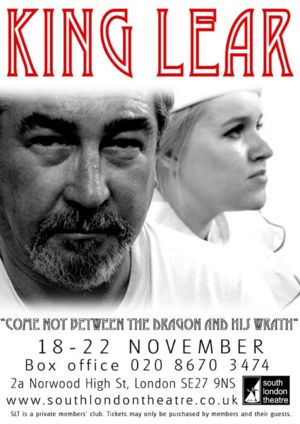 Directed by Maya Gabrielle Talbot
Performances: Tue 18th - Sat 22nd November 2008, Prompt Corner
Introduction
King Lear of Britain decides to retire and divide his kingdom between his three daughters, giving the better land to the daughter who claims to love him the most. Goneril and Regan both flatter him and are rewarded. Cordelia, Lear's youngest and favourite daughter, refuses to say any more than that she loves him as much as a daughter should. Lear becomes enraged and disowns her, splitting her share of the kingdom between his two older daughters. The Earl of Kent is banished by Lear when he tries to intervene.
In a contrasting subplot, aggrieved Edmund, bastard son of Gloucester, plots to get the land his father has given to his 'legitimate' son Edgar.
Cast
Other parts played by members of the company.
Crew
Thanks. The cast and crew would like to extend their heartfelt thanks to the following people who have helped with this production: Val Williams in Costume (sic), Phillip Wale and the staff at The Hob, Crispin Hunt and the staff of Shakespeare's Globe, Theatre Committee, General Council, Anna York and her box office team, the lovely bar staff and FOH team, Mike Elliott and Dee Fancett
Reviews
Some review quotes go here
Gallery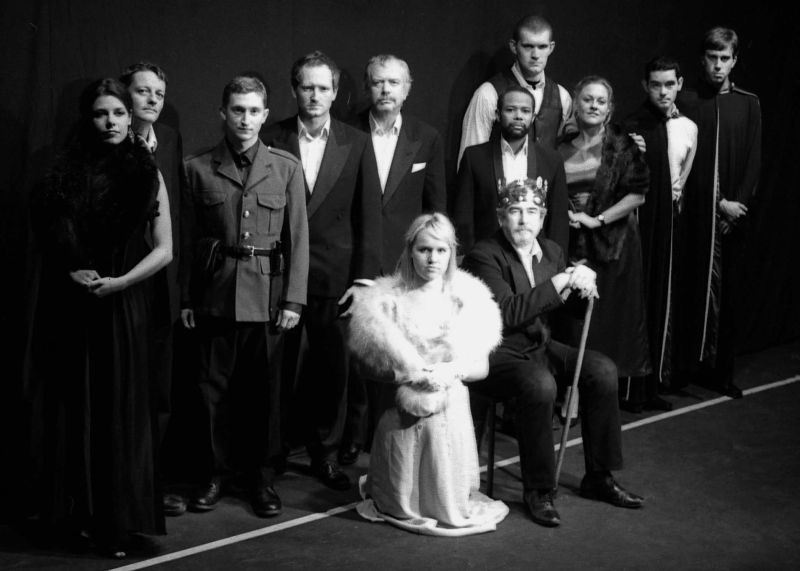 Reminiscences and Anecdotes
Members are encouraged to write about their experiences of working on or seeing this production. Please leave your name. Anonymous entries may be deleted.
See Also
References
<references/>
External Links